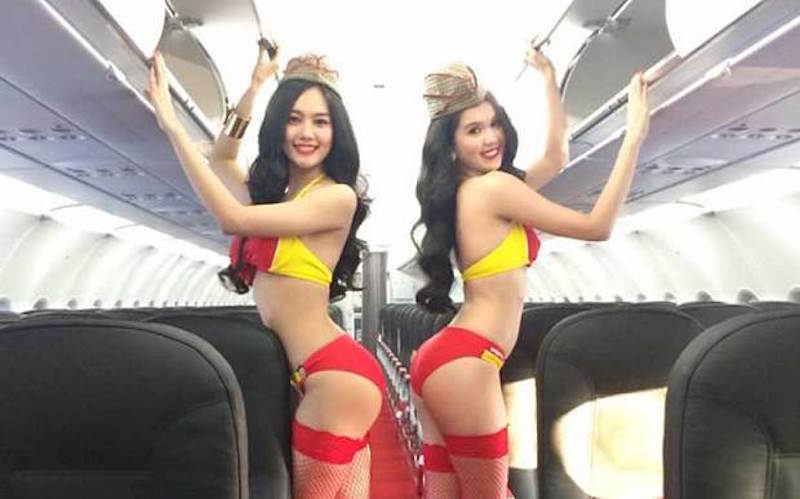 Info Rider Should Know Before Coming in order to Plan Their Holiday's Itinerary
Our office bases in Hanoi where rider can reach via Noi Bai International Airport. If arrival destination is not Noi Bai, you should check out domestic flight to get Hanoi to carry on to ride.
There are 21 airports used for commercial purposes and transportation services in Vietnam, in which, there are 10 international airports and 11 domestic airports.
Ten international airports in Vietnam: Noi Bai (Hanoi), Cat Bi (Hai Phong), Vinh (Nghe An), Phu Bai (Hue), Da Nang (Da Nang), Chu Lai (Quang Nam), Cam Ranh (Khanh Hoa), Tan Son Nhat (Ho Chi Minh city), Can Tho international airport (Can Tho), and Phu Quoc international airport (Kien Giang).
Eleven domestic airports in Vietnam: Dien Bien Phu airport (Dien Bien), Tho Xuan airport (Thanh Hoa), Dong Hoi (Quang Binh), Phu Cat airport (Binh Dinh), Tuy Hoa (Phu Yen), Buon Ma Thuot (Dak Lak), Lien Khuong (Lam Dong), Pleiku (Gia Lai), Ca Mau (Ca Mau), Con Dao (Ba Ria Vung Tau), Rach Gia (Kien Giang).
The most popular airports to both foreigners and Vietnamese people are Noi Bai and Tan Son Nhat because these 2 airports are located in the 2 most famous cities for culture, tourism, politics and economy in Vietnam.
Noi Bai International Airport:
Located in Soc Son district, 15km from Hanoi capital center, Noi Bai is the largest airport in Vietnam and was built to serve flights for Hanoi and the other Northern provinces. The airport is managed by the Airports Corporation of Vietnam (ACV), an agency of the Ministry of Transport.
Noi Bai International Airport is the main center of Vietnam Airlines carrier as well as Vietjet Air, Jetstar Pacific Airlines, Air Mekong and formerly, Indochina Airlines.
Tan Son Nhat International Airport:
Formerly known as Tan Son Nhut Airport, the airport is well-known with the highest handling capacity in Vietnam (about 20 million passengers per year). It was built in 1930 in Tan Son Nhat village, Go Vap district, Gia Dinh province, 8km from the center of Ho Chi Minh City (Tan Binh District), Tan Son Nhat International Airport is a very important traffic hub of the South.
Tan Son Nhat is under the management and exploitation of Airports Corporation of Vietnam (ACV), under the Ministry of Transport.
Besides, from Noi Bai airport or Tan Son Nhat airport, you can easy to book flight to Cam Ranh airport to visit Nha Trang, the very well-known seashore city in Vietnam; to Da Nang airport to visit the most worth-to-live city and Hoi An ancient town-one of the most amazing destinations in Vietnam.
If you want to do Vietnam motorcycle tour with Adv motorcycle tours and Dirtbike travel, please book flight from your country to Hanoi capital because we have only 1 office in Hanoi. However, in case you have to transit in Ho Chi Minh to save the flight time, there are so many flights from Tan Son Nhat airport (Ho Chi Minh) to Noibai airport (Hanoi).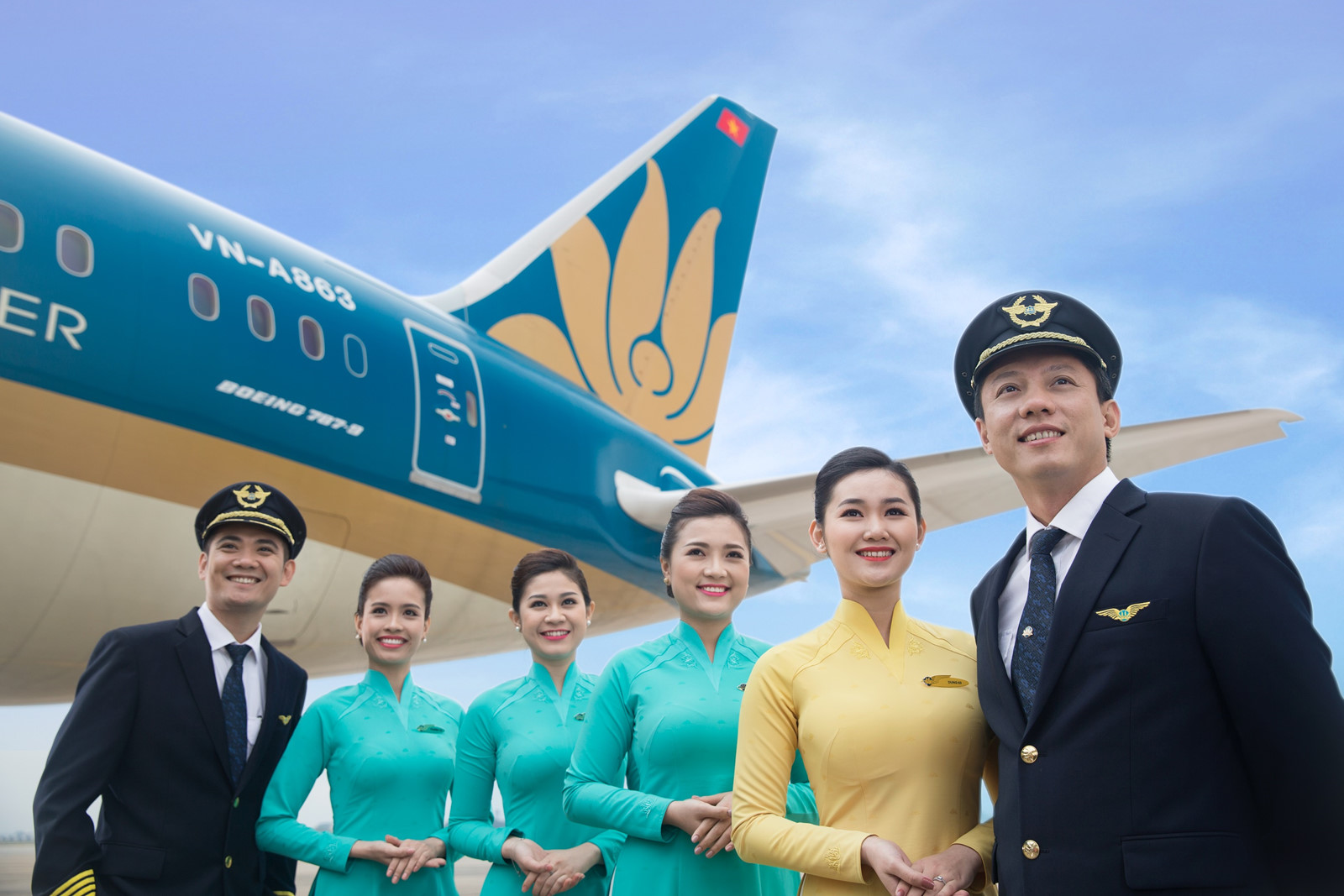 Domestic and International Airlines in Vietnam:
Air France
Air France is the French National Airline which owns 237 airplanes and operates flights to 183 destinations worldwide.
Air France Website: https://www.airfrance.com/indexCOM.html
Japan Airlines
Japan Airlines was established on 1st October 1953. Currently, Japan Airlines has been the largest Airline in Asia. This is 1 of the 2 Asian Airlines which operates flights to Latin America. This company has a fleet of 232 aircraft, flies to 125 destinations and owns the biggest number of Boeing 747 in the world.
Japan Airlines Website: https://www.jal.com/
All Nippon Airways
This is the second biggest International and domestic Airline in Japan, only after Japan Airlines and it is also the official airline of the Universal Studios Japan. All Nippon Airways organize flights to 49 destinations in Japan and 22 international routes.
All Nippon Airways Website: http://www.ana.co.jp/asw/wws/us/e/
Asiana Airlines
Asiana Airlines was formally established in 1988 and it is a member of the alliance "Star Alliance" – one of the three powerful alliances which gain standardized quality of service in aviation field in the world.
To be one of the 2 biggest airlines in Korea, this company has headquarter and hub in Incheon International Airport and domestic hub at Gimpo International Airport. The airline has a total of 63 aircraft and flies to all 77 points.
Asiana Airlines Website: flyasiana.com
British Airways
British Airways is the largest airline in UK and the third largest airline in Europe only after Air France-KLM and Lufthansa. This company organizes many flights from Europe across the Atlantic. It has a total of 234 aircraft and open flights to 222 destinations nationwide.
British Airways Website: https://www.britishairways.com/travel/home/public/en_vn
Cathay Pacific
This is the Airline of Asia with headquarter in Hong Kong which carries cargoes and passengers to 102 destinations worldwide. This is an official airline of Hong Kong which mainly works in Hong Kong international airport. Cathay Pacific is ranked by Skytrax as 1 of the 5 "5 star" airlines. Besides, Cathay Pacific Airways is also granted the IOSA certificate by IATA because of its safety.
Cathay Pacific Website: https://www.cathaypacific.com
China Airlines
China Airlines is the national airline of the Republic of China. This is considered as one of the largest airlines in Asia and has the most modern fleet in the world. Affiliated member of the Skyteam group, China Airlines provides flights to most destinations in the world, regularly flies to Shanghai, Mainland, Hong Kong, Guangzhou… For international destinations, China Airlines has many flights to European, American, Oceania and Asian countries.
China Airlines Website: https://www.china-airlines.com/us/en
China Southern Airlines
Established on 1st of July 1988, China Southern Airlines has become the largest airline of China on fleet size and number of passenger carriers so far. China Southern Airlines is also a member of the Sky Team, the world's No. 2 alliance (only after Star Alliance) with 15 airline members operating in 926 airports of 173 countries in the world.
China Southern Airlines Website: http://www.csair.com/en/
Emirates
Emirates is one of the two national airlines of the United Arab Emirates. It is headquartered in Dubai. The company has nearly 550 scheduled flights per week, serving 87 cities and 59 countries.
Emirates Website: https://www.emirates.com
Eva Air
Eva Air is a Taiwanese airline based in Taoyuan International Airport – Taiwan, near Taipei, Taiwan, operating flights to transport passengers and cargoes to destinations in New Zealand, Australia, North America, Asia, and Europe. The company is a subsidiary of Evergreen Group Corporation.
Eva Air Website: https://www.evaair.com/
Korean Air
Korean Air is the largest airline in Asia with base in Korea. Besides, it is the founding member of SkyTeam, a global airline alliance found in 2000. Korean Air own 148 aircraft and operates scheduled flights to 125 cities in 45 countries abroad, including 12 cities in South Korea. Currently, in Vietnam, Korean Air exploits more routes to Korea, Japan, Switzerland, Germany, USA, France, Italy and Australia.
Korean Air Website: https://www.koreanair.com
Lao Airlines
Lao Airlines is an airline based in Vientiane, Laos. This is the national airline of Laos with flights to Cambodia, China, Thailand and Vietnam. The company's headquarters is at Wattay International Airport, Vientiane.
Lao Airlines Website: http://www.laoairlines.com/
Lauda Air
Lauda Air is the national airline of Austria based in Wien. The company has its base at Wien international airport and it is also the member of Star Alliance. It operates the first long-haul flights to Sydney and Melbourne via Bangkok. The airline has 10 planes and flies to 130 points in 66 countries.
Lion Air
Lion Air is an airline in Jakarta, Indonesia. It operates 35 points of domestic flights, and regular flights to Singapore and Malaysia. The full name of this airline is PT Lion Mentari Airlines. Lion Air' headquarter is at Soekarno-Hatta International Airport, Jakarta.
Lion Air Website: http://www.lionair.co.id/
Lufthansa
Lufthansa is the largest airline in Germany and the second largest one in Europe after Air France-KLM, higher rank than British Airways. Lufthansa headquarter is located in Cologne. Its' main center is at Frankfurt Airport in Frankfurt am Main and the second center is at the Munich International Airport. It operates a total of 79 aircraft and flies to 75 destinations.
Lufthansa Website: http://www.lufthansa.com
Aeroflote
Aeroflote is the national airline company and it is the Russia's largest carrier in Russia. The airline is headquartered in Moscow and operates domestic routes to nearly 90 international cities in 47 countries. Its main airport is Sheremetyevo International Airport, Moskca.
The airline is a member of the SkyTeam Alliance. It also used to served as an international aviation company of the Soviet Union and the largest airline in the world. The company headquarter is near Aerostar Hotel, central of Moscow.
Aeroflote Website: http://www.aeroflot.com
Philippine Airlines
This is the first commercial airline in Asia. The airline is based in Makati City in Philippines. Philippine Airlines organizes both domestic and international flights. To December 2006, the company has 21 domestic destinations and 32 cities in the world. Its operation center is located at the Ninoy Aquino International Airport in Parañaque City in Manila.
Philippine Airlines Website: https://www.philippineairlines.com/
Qantas
Qantas is the name of the national airline of Australia and it is the 11th largest airline in the world. "QANTAS" is an acronym for Queensland and Northern Territory Aerial Services. The company's headquarters is currently located in Sydney, New South Wales, Australia.
Qantas Airways Website: https://www.qantas.com/
Scandinavian Airlines System
Scandinavian Airlines System (SAS) is a multi-national airline of Denmark, Sweden, and Norway. The airline is headquartered in Frösunda (Solna, north of Stockholm), using Copenhagen Airport and Stockholm-Arlanda Airport as a base.
Siem Reap Airways
Siem Reap Airways is based in Phnom Penh, Cambodia. Its main base is at Phnom Penh international airport and its side base is at Angkor international airport. This airline has domestic and international flying routs.
Thai Airways
Thai Airways is a national airline of Thailand, the main hub is at Suvarnabhumi International Airport in Bangkok, and it is the founding member of Star Alliance system. The airline serves 74 destinations and has 90 aircraft.
Thai Airways Website: http://www.thaiairways.com/
Singapore Airlines
This is the national airline of Singapore. Singapore Airlines' main activities are organized at Singapore Changi International Airport and Singapore Airlines has the presence in the aviation market in Southeast Asia, East Asia, South Asia, Africa and "canguru route" between Europe and Oceania .The this company also provides trans-Pacific flights, including 2 of the longest commercial direct flights from Newark, New Jersey and Los Angeles, California. The company also owns the airline: SilkAir.
Singapore Airlines Website: http://www.singaporeair.com
Malaysia Airlines
Airlines Malaysia Airlines began working as a national airline in 1947, named Malayan Airways Limited (MAL). After Malaysia was established, the airline changed its name to Malaysian Airlines Limited. Currently the airline has had offers flights to 850 destinations in 150 countries which belong to Oneworld alliance.
Malaysia Airlines Website: https://www.malaysiaairlines.com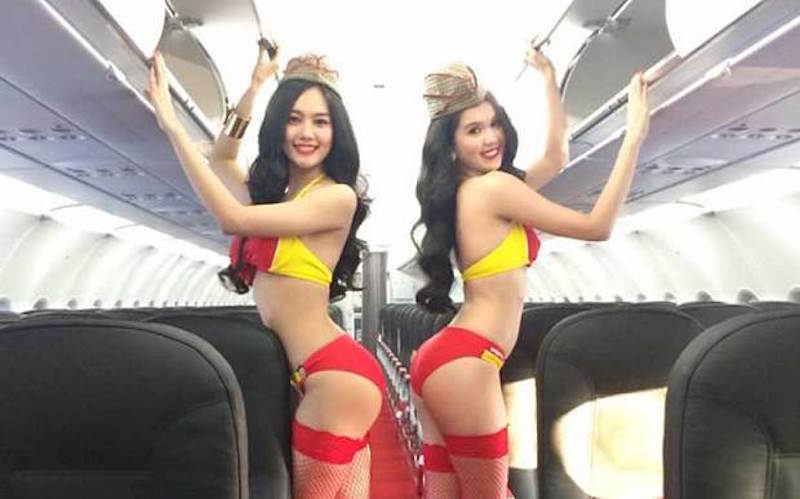 VietJet Air
This is the first private airline in Vietnam. The airline's headquarter is at Noi Bai International Airport in Hanoi and branch in Tan Son Nhat International Airport in Ho Chi Minh City.
The airline organizes passenger air transport and public goods transport regularly (scheduled and non-scheduled), general aviation aircraft and aviation support activities.
VietJet Air Website: http://www.vietjetair.com
Jetstar Pacific Airlines
Jetstar Pacific, renamed from Pacific Airlines, is the second largest airline in Vietnam and it is also the only low-cost carrier. This company has base in Tan Son Nhat International Airport in Ho Chi Minh City. Jetstar Pacific operates flying services for passengers and cargoes to domestic and international destinations.
Jetstar Pacific Airlines Website: http://www.jetstar.com
Vietnam Airlines
Vietnam Aviation Corporation is a prestigious airline in Asia with the large global flying network and convenient connecting flights, especially in Indochina.
The route network of Vietnam Airlines has been expanded to 19 provinces and cities across the country and 42 international destinations in the US, Europe, Australia and Asia.
Vietnam Airline Website: https://www.vietnamairlines.com
Based on the list of airlines above, it is very easy for tourists, who plan to travel to Vietnam, especially do Vietnam motorbike tours with Adv motorcycle tours and Dirtbike travel, to choose the most suitable airline to Vietnam.
For more information about this article, please contact us via email: dirtbiketravel@gmail.com