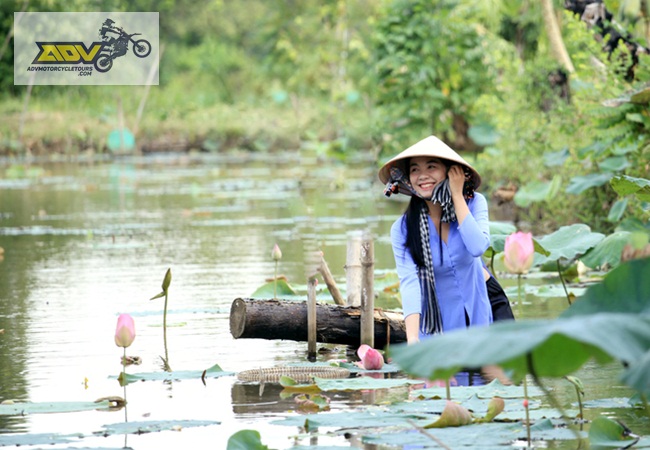 Discover Ben Tre – land of coconut in a day-trip
Ben Tre is a province in Mekong Delta, known as the hometown of Dong Khoi revolution and also the origin land of coconut. Ben Tre locates downstream Mekong river that crisscrosses numerous canals, and the vast coconut plantations. Additionally, it depicts lovely orchards scattering across several districts, but mostly concentrate in two districts of Chau Thanh and Cho Lach. ADV Vietnam Motorbike Tours and Dirtbike Travel recommend you such enjoyable ecotourism activities, home stay and very fresh air here.
Ben Tre is beautiful in all seasons, but if going in summer months (June, July, August), you bet admire the colorful picture and relish dozens of well-known fruits such as mangosteen, durian, rambutan. Whereas, tourists want to participate in the vivid festivals, go in March or November.
From Saigon to Ben Tre there are three directions, the first is from Phu Lam roundabout, the second start sat Nguyen Van Linh street and Trung Luong expressway as the third option (approximately 1 hour). If you travel by motorcycle, it would be more convenient to move between spots, and this vehicle costs not high either. Where you want to spare breath for strenuousness in Ben Tre, there offer lots of passenger cars for your selection such as Mai Linh, Thao Chau, Thinh Phat, etc.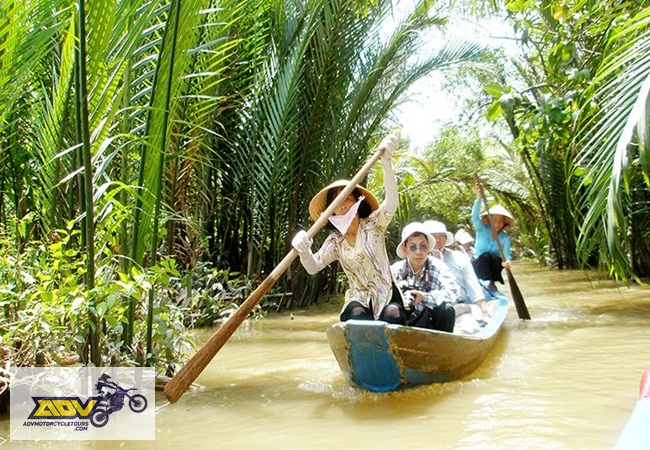 Some sights in Ben Tre
Bird sanctuary locates in Tan My Commune, Ba Tri District, Ben Tre Province. From the city of Ben Tre Province along the provincial road 885, to Ba Tri town and then turn into Vam Tan Xuan, and Vam Ho about 52 km long. Vam Ho Bird Park is a mere ecosystem of the coastal mangrove forests in Mekong river, with high biological value and potential for ecotourism development. It has been known for more than 100 years under the name Cu Lao La. At first, the place was only a small canal, pouring into Ba Lai river. With an average elevation of 1.2 meters above sea level, Vam Ho turns out to be the ideal location for plant flourishing which eventually forms a broad range of mangrove forests downstream along the river. It homes more than half a million birds of all kinds. According to statistics, Vam Ho bird sanctuary has around 84 species belonging to 35 families; mainly white stork, ardea intermedia wagler, cauldron, ardea cinerea gould, etc; lower bushes are the world of species, amaurornis phoenicurus and centropus bengalensis, dicrurus macrocercus, etc; down the bottom, you'll find many wild animals such as bats, raccoons, snakes, squirrels, python.
Currently, Nguyen Dinh Chieu tomb has been expanded larger, including temples, memorial house at An Duc Commune, Ba Tri District, 2km from the town center due south in order to pay tribute to a great national patriotic poet in the latter half of the nineteenth century, and serve for the sightseeing, research as well as education. Monument was recognized by the Ministry of Culture – Information as national historical – cultural relic in 1990.
Con Phung of 50 ha lies on a floating island in Tien river, Tan Thach Commune, Chau Thanh district, Ben Tre province. People live mainly on handmade crafts from coconut and fruit trees. Visitors can go along those dunes by motorboat to visit coconut candy production facility, producing souvenirs from plants, ride on horse carrier to visit orchards, rest under coconut roofs, drink tea with honey and blueberries, enjoy tropical fruits, and delight music of amateurs.
Drop by Cho Lach flower village, you seem to be lost in an enchanted space of a fertile and fruitful countryside. After nearly a hundred year, this village has witnessed quite big change. It features an ideal tourism destination whose bold Southern attribute appeals countless hearts.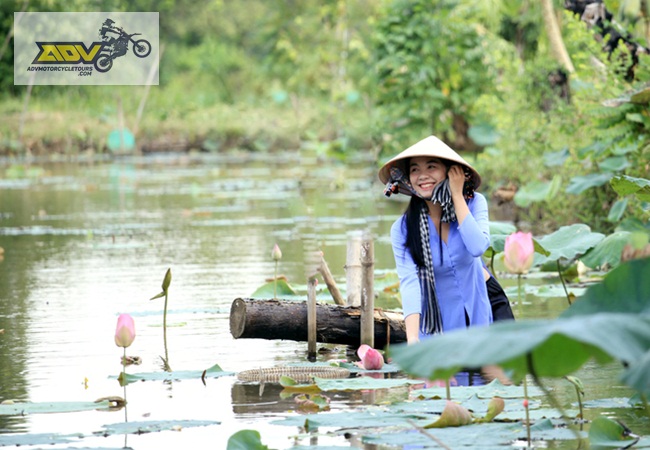 Initially these interesting ornamentals were mostly familiar animals such as deer and other 12 animal designations. Currently, Cho Lach has created a new record in size, quality and variety of patterns. Because Ficus microcarpa is easy to bend into forms and has great vitality, artisans can shape the huge beasts at the request of customers, such as deer, moose, dinosaur fish up to 3-4m high, 30-40m long. Besides, the artists also create the ornamental design like: hexagon, octagon; gourd, vase, teapot, the Eiffel Tower, etc. Especially interesting ornamental shapes from Ficus shall become more beautiful along time.
Fatty, tasty coconut candy, strange dish of rhynchophorus ferrugineus, local rice pancake, grilled banana eaten with coconut milk, or a variety of fruit trees such as orange, tangerine, durian, banana, rambutan, mangosteen, custard apple, mango, mangifera indica, langsat, pineapple, star apple, green grapefruit do rejoice many tourists, enjoy at least once and you'll be haunted by the special taste of this land.
Ben Tre has favorable conditions to develop tourism as it still preserves the archaic gardens, good ecological environment of green coconut plantations and enormous orchards, suitable for picnic, many historical, cultural and sightseeing attractions. The coconut paradise welcomes tourists to the lenient surroundings and the short visit assuredly appeases all racing minds.