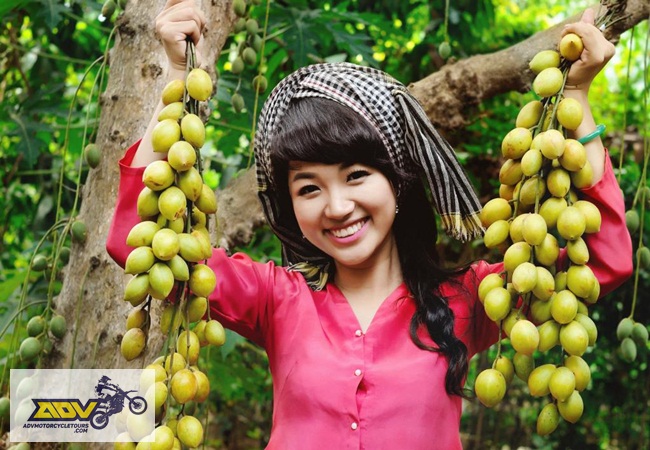 Impressive tour to the industrial zone of Binh Duong province
Binh Duong in the Southeast region borders Binh Phuoc, Ho Chi Minh City, Dong Nai Province, and Tay Ninh to the North, South, East, and West respectively. Besides being an industrial park, it is also famous for many scenic spots, historical sites.
Only about 30km from Ho Chi Minh City to the south, you can travel by private car, coach, bus or motorbike. Currently most provinces in the country have passenger cars to Binh Duong. If travelling by train, you can stop at Bien Hoa station then take bus or coach here.
From Saigon – Binh Duong if traveling by motorcycle or private car, ADV Vietnam Motorcycle Tours and Dirtbike Travel suggests you to take the following route: Binh Trieu/Saigon Bridge – Highway 13 – Highway 14 toBinh Duong province.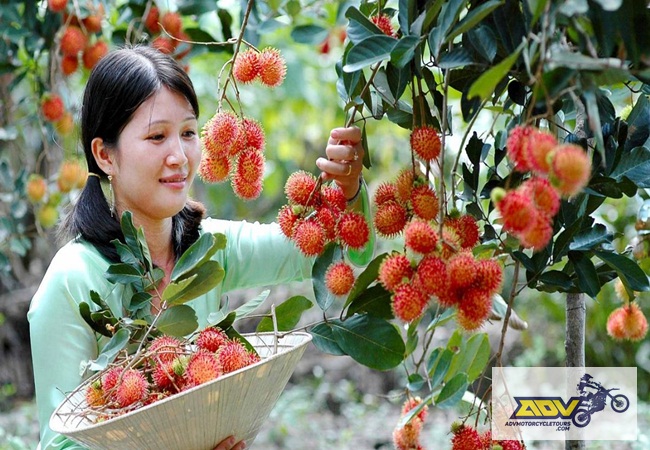 Place of entertaiment, tourism attractions in Binh Duong
Song Be Golf Resort of Thuan An Town, Binh Duong province, inaugurated and put into use in 1994, which is the first golf course in Vietnam satisfying international standards. The area stretches 100ha large with over 10 lakes, 18 holes. Besides, Song Be golf course also integrates diverse and handy services such as: the playing ground, dressing room, tennis courts, restaurants, villas, children's playing area, sauna, function rooms and a reading book chamber.
Hoi Khanh Temple locates at 35 Yersin Street, Phu Cuong Ward, Thu Dau Mot District, Binh Duong. The temple was built in 1741 under King Le Hien Tong dynasty. By 1861 it was destroyed seriously in war, not until 1868 that a chief monk rebuilt the temple on a foothill, about 100m from the old location.
Binh An lake locates in Thang Ngai, Binh Thang Ward, Di An Town, Binh Duong. Truly to its name, the scene in the lake is very peaceful, quiet, suitable for a relaxing break. The bank is surrounded by shady trees all year round, the flower beds blossom in four seasons.
Especially intertwining between emerging islets on lake, looming hidden behind the lush foliage, floating restaurants on the water looks like boats mooring at the wharf. On lakeside straddle the small house designed in communal Central Highland houses which should be place for travelers to rest and relax.Here visitors have opportunity to engage in many exciting activities such as fishing, boating and feasting delicious food.
Traditional ceramic village of Binh Duong situates in 3 communes including Hung Dinh commune, Thuan Giao, Binh Hoa in Thuan An Town, Binh Duong. Chanh Nghia Ward and Thu Dau Mot City surmount 500 ceramic furnaces. Ceramic products here are quite varied in color and design from the familiar household items to decorative arts, industrial ceramics. Binh Duong glossy, durable ceramic becomes favored all over the country.
Traditional lacquer village locates in Tuong Binh Hiep Commune, Thu Dau Mot City, about 7km to the north. For a long time this place has famed for lacquer products of high quality and artistic value which are exported to several countries around the world and displayed in many exhibitions domestically and internationally. At this point you will witness the stagesto create lacquer, a unique practice only in Vietnam.
Lai Thieu orchard lies in Lai Thieu town, Thuan An Town, Binh Duong Province, about 20km from Ho Chi Minh City. Orchard is well known throughout the South East, with a total area of 1,230ha and many plant species. From May to August during the fruit ripening season, tourists will not only admire the blazing beautiful fruit trees, but also savor delicious fruits such as: mangosteen, durian, rambutan, marang, star apple.
Dai Nam tourist area locates in Hiep An Ward, Thu Dau Mot District, about 30km from Ho Chi Minh City to the north. The whole resort has a total area of approximate 476ha, it integrates abundant forms of tourism, entertainment including temples, palaces, mountains, hotels, lakes, amusement parks and is a tourist destination with bold spirit of nation's traditional culture. Notwithstanding, Kim Dien is a gold plated temple in Dai Nam tourist area. Kim Dien was recognized as Vietnam's largest temple. Its entire 9-hectare area includes extensive gardens, mountains. The 5,000m2 of main temple is made of precious wood, rock, and gold plated.
Dau Tieng Lake is a famous scenic spots in Binh Duong province. It has mountains, lakes and water. Visitors interested in the journey are recommended to Nui Cau to find the wild nature. In the mountain, there exist forests of valuable timber trees like Pyinkado, Narra Padauk, Lagerstroemia, etc. and some rare animal species such as deer, roebuck, wild boar. Standing on Mount peak, tourists can observe the whole beauty Dau Tieng lake that is also known as Dau Tieng Irrigation works. The lake features blue, flat surface, surrounded by trees and grass lawns, mixed with white flower clusters giving off fragrance.
Wind and Water cafe has won many awards of Vietnam and international Architects' Associations. It should be an interesting stopover. The construction is a subtle harmony between wind power and cooling capacity of the water, application of aerodynamic principles have helped to save the cost for air conditioner. The whole building material is made from nearly 7,000 Thai Bamboo, a Vietnamese traditional material and friendly to nature. When the night approaches, the use of light as well as aesthetic works adds to the sparkling and beautiful look.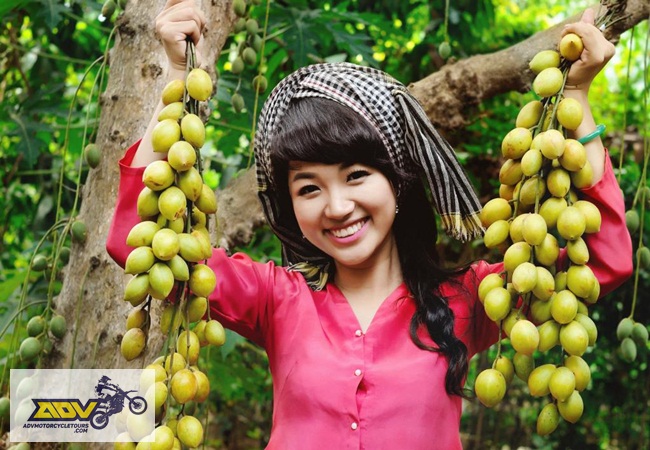 Delicious dishes – Specialties in Binh Duong
Being endowed with fertile, rich soil, this place fits for industrial crops. So in addition to Lai Thieu orchard, Binh Duong also has vast rubber forests, the huge cashew plantation. Roasted cashews become a familiar, nutritious specialty. Cashew here is sweet, fleshy, fat and good for people with depression, sore throat, cold.
Small steamed savory rice cake is another famous food of Binh Duong, a mixture of pork and sliced skin mixed with spices. Pork must be delicious ham, leather, roasted and stewed with coconut milk to soak the sweet and soft meat.
Tile-grilled beef are common in many places but in Binh Duong beef tastes more delicious. Beef after baking retains the aroma, flavor. The dish is served with sesame rice paper and herbs such as perilla leaves, sliced banana, wormwood, star fruit, cucumber, etc dotted with seasoning sauce. Grilled beef with sweet beef, acrid banana, pungent wormwood leaves, perilla and sour star fruit aroma of seasoning sauce surely exult your tongue.
Shrimp noodle dish sounds unique of Binh Duong. Noodle here is prepared on the spot, when you order, restaurant begins to press rice flour and make the noodles, so the vermicelli here is very fresh, soft and pure. Shrimp is also fresh, sweet with firm texture. This dish will be served with toasted rice cake. The dish tastes sweetness of shrimp, tasty aroma.
If you plan a trip around Sai Gon, Binh Duong should be the next ideal option, come and learn the cultural factors, authentic and creative structures, banquet the mouth watering foods, bet you wanna another endure motorbike ride here soon.