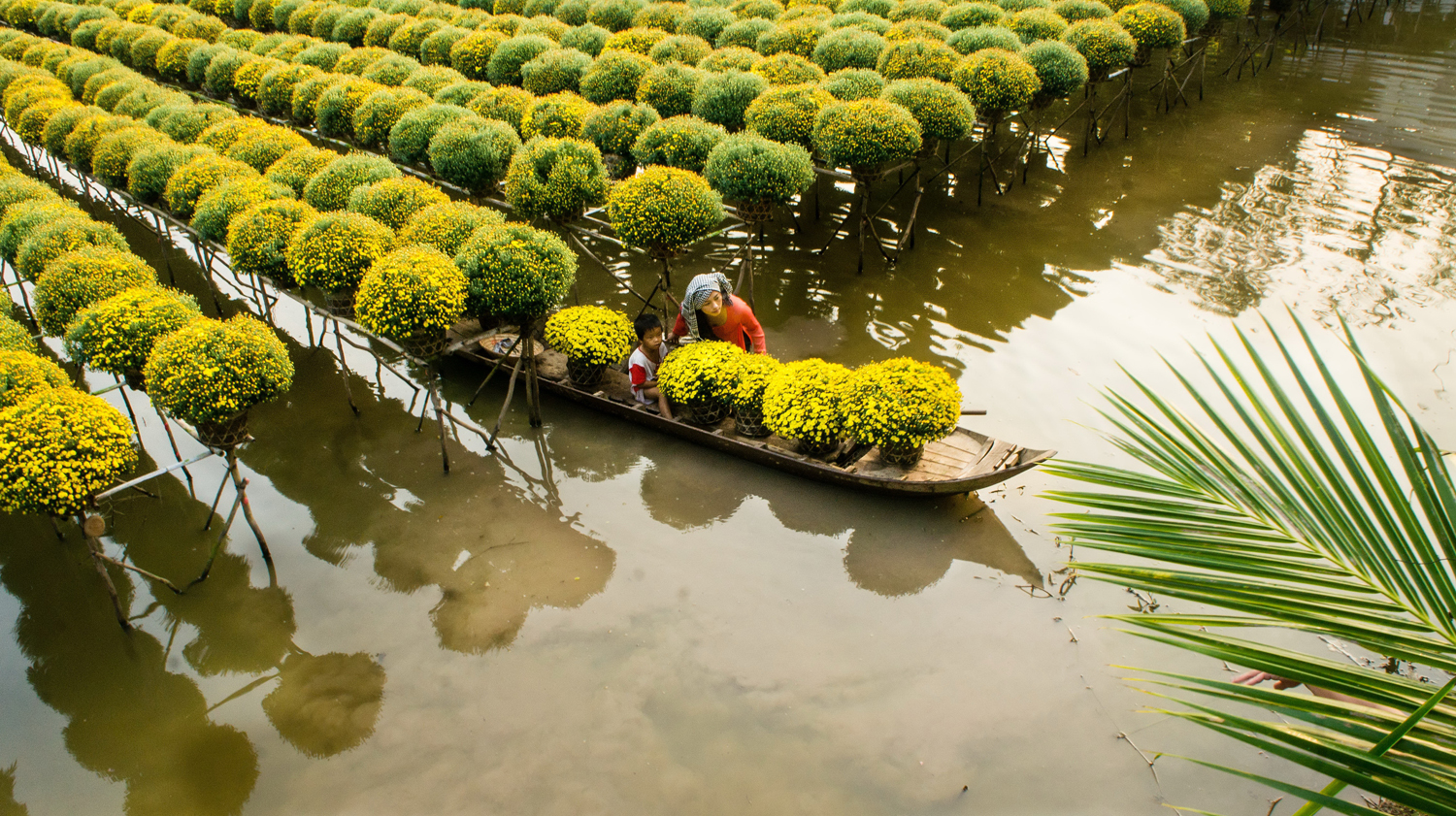 Pleasant tour to peaceful and bounteous Can Tho Province
Can Tho – The largest city in the Mekong delta is an ideal location for those who want to explore the West river area. Situating along the Hau river, life here bears trait of a peaceful countryside. Joining Vietnam Motorbike Tours to those must-see sites of this western capitol will be the ride of life time.
Cai Rang is one of the famous floating markets in the Southwest region. It specializes in agricultural products from the region. Every morning, hundreds of boats distribute in line offering visitors the blazing sight with colorful fresh fruits. Here you will sense all the typical features of life on river. And the floating market has become an integral part to the local culture.
The tourism gardens in Can Tho laden with fruit trees allure visitors. You should take a promenade while delighting the fruits at hand reach and other specialties such as grilled fish, boiled snails, etc. There are so many orchards for tourists such as My Khanh, Sau Duong, Binh Thuy orchid garden, arch garden, on the rivers Phong Dien and Phung Hiep and many other family gardens in O Mon and Thot Not.
Giant Crape-myrtle stork garden (Vuon Co Bang Lang) – one of the largest bird sanctuaries in area where nine rivers converge. On the way from Can Tho City to Long Xuyen, An Giang, pass Thot Not town about 5km, you'll reach this stork garden. Drift along the small river, under the shady trees in front of a vast white water like the sea, which is already finished harvesting crop in flooding season. You can observe tens of thousands of stocks (white, gray, black storks) swoop down branches of Phyllostachys, swinging in the wind.
The ancient Binh Thuy house of five sections, two roofs, in French architecture was built in 1870. The floor elevates 1m high; four elegant terraces, connected with large yard, high ceiling, fine decor, large and small open doors mounted on steel frame which enables quite good ventilation and stucco facade relievo. The entire brick characterizes red – black roses paved with cast iron fence that were manufactured and transported from France. This should be a rare intact remnant typical for old structure that provides researchers a hind sight into daily routine, culture and evolution under different impact of transition time between two centuries.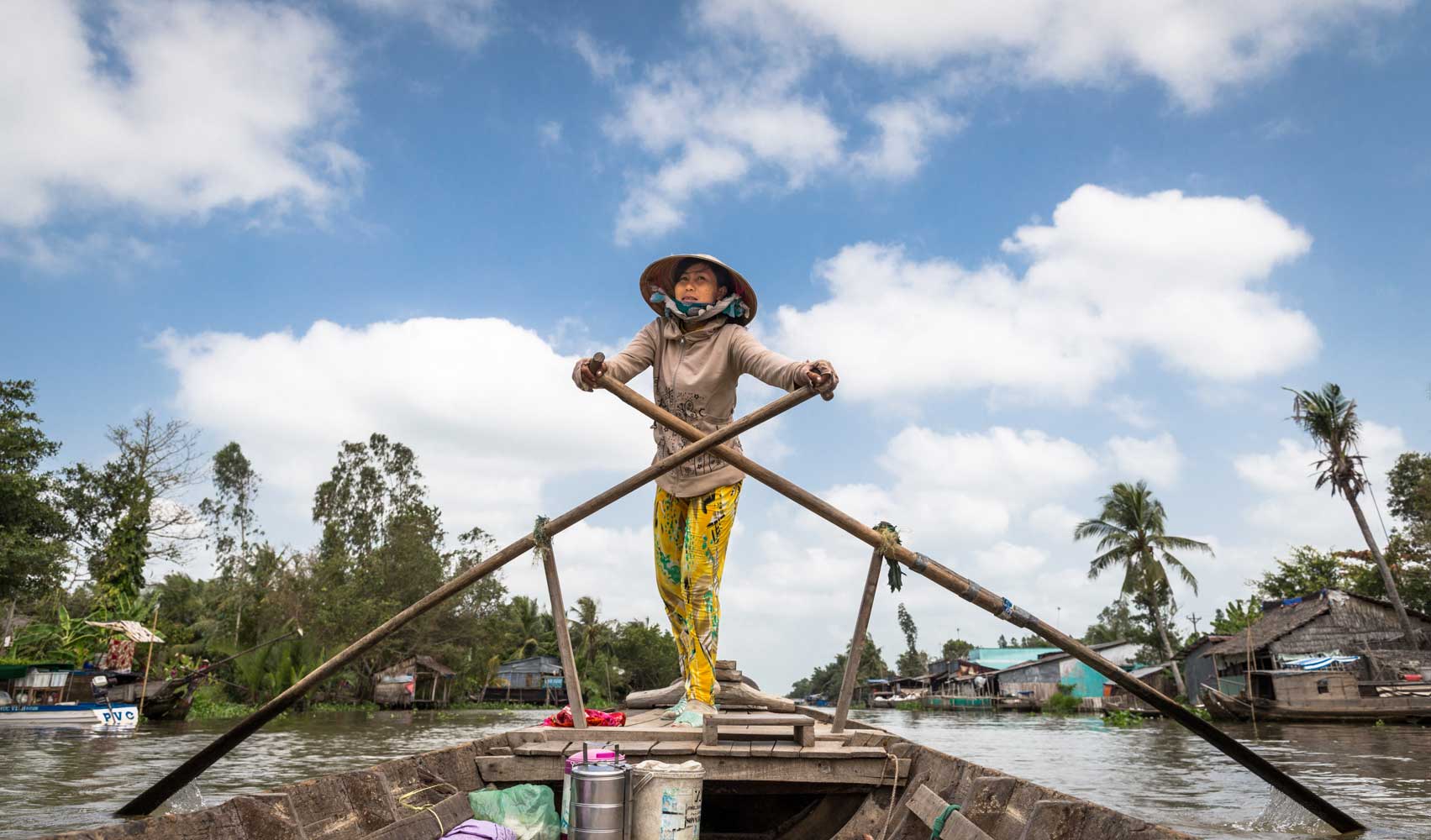 Can Tho old market (Hang Duong) or "six interprovincial markets", locates on Hai Ba Trung Street. This market was built at the same time with Ben Thanh and Binh Tay markets in Saigon. It has a very specific feature, very unique across the region. When the night falls, boats deliver goods from corners tothis busy river. Can Tho city recently proposes project for dock, waiting room, souvenir booths to serve tourist better.
Tay Do Market locates approximately 1km to the west of Can Tho City toward Hau River, in the provincial international exhibition. It is the largest shopping center, an entertainment hub and tourist attraction of the southern provinces. The market once was a concentration point transporting many items locally and abroad. Besides the exchange of goods, there are eateries, leisure activities. Due to the scale and importance in the region, Tay Do market is a major trading center for the southern provinces.
Ninh Kieu quay locates on the right bank of the Hau River, right at the confluence of Hau and Can Tho rivers, near the city center of Can Tho, Hai Ba Trung Street. The site attracts tourists by the charming river landscape and position overlooking the gentle flow of Hau Giang. It also draws tourists for the pavilion on the river. Pavilion house is a ship floating bridge connecting the shore by a segment, railings firmly straddle on the two sides of bridge, thus visitors can stand there to enjoy cool wind. This floating house is a restaurant of two floors with hundreds of seats. Guests can dine delectable dishes from eels and sticky rice wine whilst watching the Hau river scene. On the river, boats assiduously depart and arrive the quay. There are also parks growing many precious, green plants well worth your visit.
Most of the movement in the western region is by cars.  You can go bus stations to buy tickets from some popular suppliers Hoang Trang, Hoang Long, Mai Linh.  Or take some flights by Vietnam airline, Vietjetair and Jetstar airline, etc to Ho Chi Minh City, then catch coaches to Can Tho.
Can Tho has many delicious and cheap food outlets that offers delicacies from river fishes, coconut extract pancake stuffed of shrimp, pork meat, spring onion, wood ear served with fresh vegetables, marinated grilled snail, dry shrimp noodle, clear rice noodle soup, etc.
Typical beauty of a wetland with humble villages lying under the shade of coconut trees by gentle river bank, fruitful orchards and bustle floating markets, even more special when savoring the rustic dishes originated from this generous fertile land wills be an unforgettable memory for tourism. Embark on an Vietnam motorbike tour here is great activity for rider as well. Hope you have lots of fun.