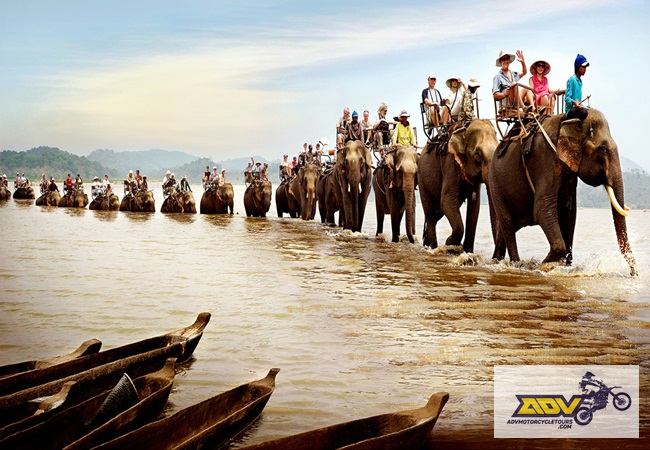 Abundant excitement in land of coffee and elephant of Buon Ma Thuot, Dak Lak province
Buon Ma Thuot – Highland capital at April days when Bombax ceiba flowers (Hoa Po Lang) blooms red color on mountains. Along with the sun and wind, the vast fields of green coffee, ecstatic brew or legendary gong space that induces the land to be most unique destination on Highland. All services here are extremely affordable and friendly, thus ADV Vietnam Motorbike Tours and Dirtbike Travel suggests you to arrange time for a good rewind here.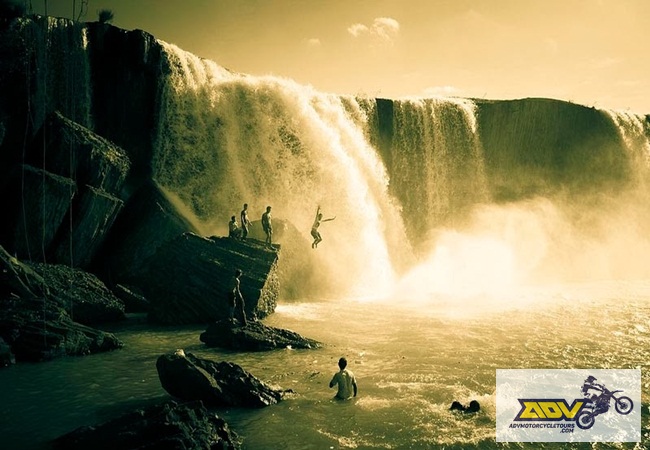 Some sound stopovers in Buon Ma Thuot, Dak Lak
Buon Don locates in Krong Na commune, about 40km from Buon Ma Thuot. It is the home of wild elephant hunting and taming. Visitors not only admire the legendary Serepok river, but also experience the thrilling journey on the backs of elephants, directly explore cultural life, customs and daily activities of ethnics M'Nong, Ede. Elephant riding charges range at about 30,000 – 50,000 dong/person, stay overnight in a traditional long house is 40,000 VND/person.
About 40 km from the city of Buon Ma Thuot to the northwest, Yok Don National Park lies in the area of 4 communes of three districts. This is one of the pristine national parks over Vietnam. It homes 62 species, 196 birds, 46 reptiles, 13 amphibians and 464 species of plants, mostly white champaca. Among the 56 species of rare animals in Indochina, Yok Don has more than 38 species, 17 species listed in the World Red Book. Wild scenes of mountains and natural vegetation abundance makes this place becomes a famous ecotourism destination of Dak Lak.
Sixty kilometers from Buon Ma Thuot due southeast, Chu Yang Sin National Park has a total area of up to 59,667ha with hilly terrain, slopes, including the highest peak of Chu Yang Sin Dak Lak approximately 2,442m above sea level. This place also imprints an abundant and diverse vegetation and fauna. There are many species recorded in the Red Book of Vietnam. Chu Yang Sin National Park must one of optimal choices to discover primitive nature.
Lak lake is the largest natural lake of Highland with the area about 5km. It distances Buon Ma Thuot city about 56 km due south along Highway 27 on route to Da Lat. The lake is connected to Krong Ana river, the surface always reflects deep blue shade. Lak lake backs against high mountains, and always impresses with its calm and peaceful scene. Tourists might row boats to behold beautiful vistas. Drifting slowly on dugout canoes along the river, listen to the echoes from the forests, we feel like getting lost in the era of Dam San myth. Recognizing the serenity, tranquility and romantic beauty of Highland mountains, Bao Dai King commanded the construction of a mansion here for relaxation and sightseeing. Tourists nowadays still can take a glance at this ancient villa beside the lake.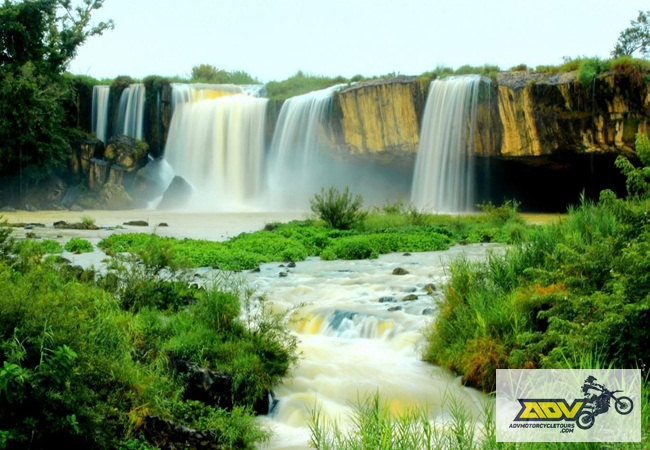 Locating on heavenly Lak Lake, Jun village (Buon Jun) owns all the characteristics of a wild Highland, like a pretty innocent girl. Visitors will see stilt houses structured in traditional design. Walking around the village, watching the girls weaving broidery, or sip wine, the experience surely enthralls travelers. Buon Jun – Buon Le is truly a destination not to be missed when traveling Dak Lak.
Gia Long Waterfall in Krong Ana district is also one of the falls on Serepook river. This waterfall appears quite large and beautiful. During 1930 -1933, the French mobilized native people to undertake hardships under brutal torture to build a suspension bridge. Gia Long waterfall becomes an impressive sight of Dak Lak tourism.
Serepork river fish or grilled chicken, bamboo rice, coffee are specialties you should try when in Buon Ma Thuot. Besides, street food tastes really delicious. From exotic dishes such as fish vermicelli, crab vermicelli, red noodle, mini savory pancakes to the familiar dishes with a unique flavor such as clear rice noodle soup, broken rice, beef noodle only about 30,000 VND/bowl.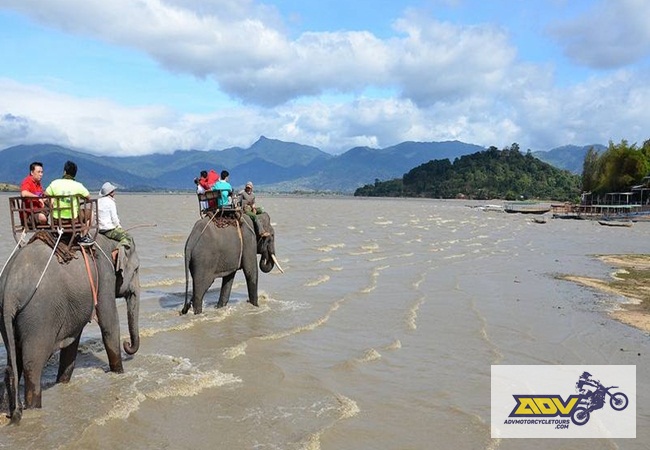 How to get there
By plane:
Vietnam Airlines : return tickets from Ho Chi Minh City-Buon Ma Thuot, Hanoi-Buon Ma Thuot, Danang-Buon Ma Thuot, Vinh-Buon Ma Thuot of more than 2 million VND.
Vietjet Air: Ho Chi Minh and Hanoi to Buon Ma Thuot at a little cheaper price.
Jetstar provides transiting flight between Hanoi and Ho Chi Minh cities at lower price than VietjetAir. Buon Ma Thuot-Vinh route is only available on Monday, Wednesday and Saturday.
By long-distance coach: You might take coach at bus stations from Hanoi and Ho Chi Minh or at provincial stations. Lots of providers offer route to Buon Ma Thuot.
By motorbike: If your health allows to embank into an hard enduro ride, prepare necessary stuffs but bear in mind the slippery roads are quite dangerous due to sharp curves, and sudden appearing trucks, coaches, etc while the trail width seems barely enough for large vehicles moving simultaneously. Therefore, it only suits brave, experienced drivers.
Spend someday visiting land of amiable elephants, pure coffee, and spectacle scenes of huge lake, wild national parks, forests, local cuisine, the magnificent epic of highland mountains indicating vitality of humans and land here awaits your footsteps.