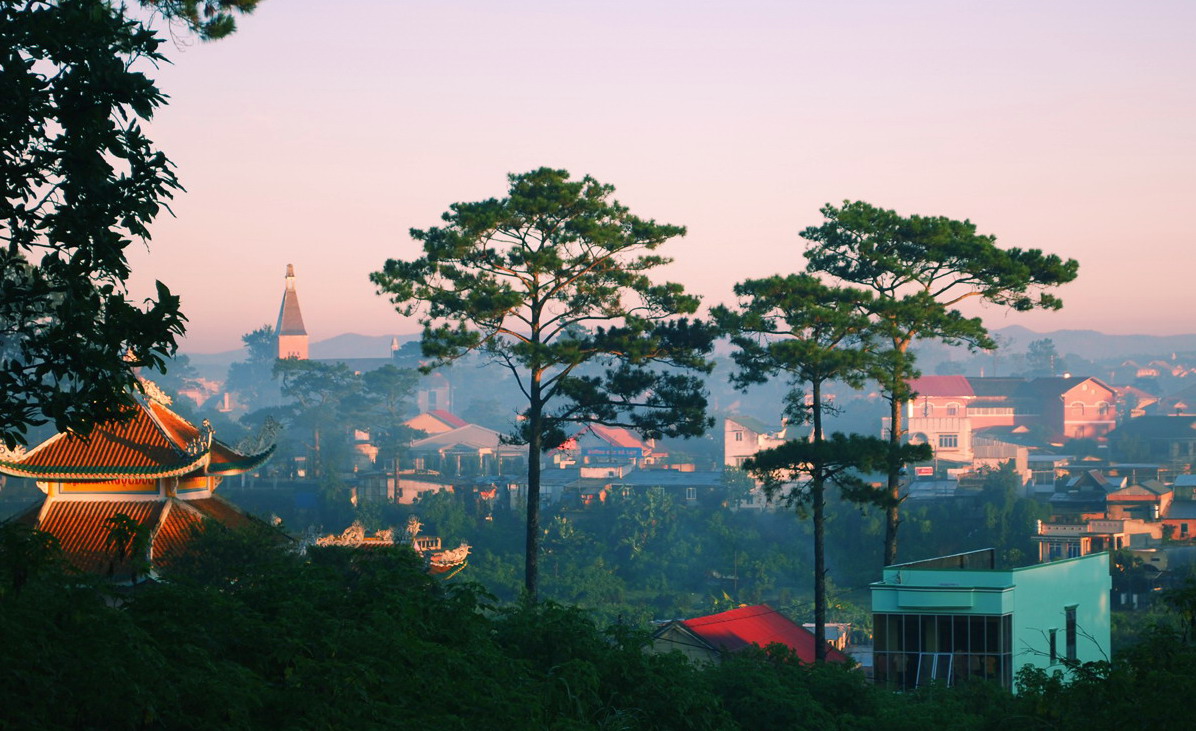 Dalat is the capital of Lam Dong province. With the 1500m height above sea level, Dalat enjoys a cool weather and is an ideal retreat in the south. Owing to immense prominent landscapes and mild climate, this place ranks among the most famous tourist cities across country. ADV Vietnam Motorbike Tour and Dirtbike Travel pleasantly welcomes fanciers to an ethereal, thrilling ride whilst delighting the aesthetic vistas on your trail. Located on Lam Vien Plateau, dubbed like Paris of Vietnam, Dalat even becomes more dreamy and poetic after a cold night when the morning fogintertwinespatches of pine forest surrounding this place. It is also nicknamed city off lower, love, spring and the city of fog.
This beautiful land was found during the French colonial period around 1893 due to the need of the French looking for a resort that owns a similar climate condition as their home country. After more than 100 years of development, Dalat now becomes a leading tourism center in Vietnam.
Dalat is known as the city of the spring due to cool weather all year round, so you can come Dalat at any time of the year. If you do not like the noise, avoid traveling on weekends or the holidays as this is the very attractive site for traveler. Dalat is always considered a great shelter from the summer heat and travel time is best during July, August and September.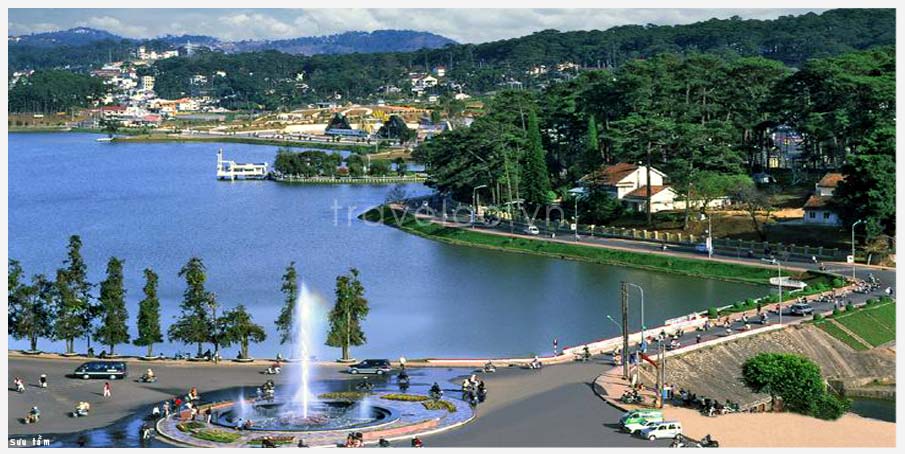 The travelling means:
Plane: There are direct flights from Hanoi, Danang or Ho Chi Minh city to Lien Khuong airport (Dalat) of Vietnam Airlines and VietJetair. Ticket prices range from US$70 to US$120, and flight time lasts from 50 minutes to 1 hour and 40 minutes.
Open Bus: Phuong Trang or Thanh Buoi, Kim Travel, Hanh Café, Sinh Tourist provides route Saigon – Dalat, ticket prices range from US$9 to US$12/ticket.
If you are from Hanoi, take flight to Ho Chi Minh city and follow the above guide. Or travelers love enduro ride might pass over a thousand miles to Dalat.  The route through Dong Nai is easier, straight, but many police supervise speed. Therefore, you should drive slowly and bring full papers. DT766 route, slightly twisting route, then cross a Pass (very beautiful, more beautiful than Bao Loc Pass) before you will reach Bao Loc Pass.
Main attractions in Dalat:
Dalat Cathedral, the largest cathedral in Dalat, one of the typical and oldest architecture of the city deeply impressive of French's design.
Highlands Institute for Biology, on Tung Lam hilltop from the center of Da Lat city 10km. In addition to beautiful scenery, Biology Institute is also an animal museum and botanical garden.
Domaine de Marie Church, about 1 km from center due southwest. The church was built in the European style of the 17th century, there is a harmonious combination between Western architecture with the architecture of the ethnic minorities in the Central Highlands.
Muoi Loi peach valley, situating on Le Hong Phong Street, close to the Palace III. Besides the beautiful cherry trees, this famous garden is a place of delicious and exotic food.
Valley of Love, famous for the most poetic and lyrical in Dalat, about 6km northeast from the city center. Tourists can climb Vong Canh hill and gain a panoramic view of the Valley of Love.
Golden Stream Valley, from the center of Da Lat travel north to lac Duong about 7 km turn left, pass about 12km further you'll reach golden stream. The trial leading to this place is extremely beautiful, you should bring food and tarpaulin coverings, and picnic there if you wish to.
Lang Biang Mountain, away from the center 12 km to the north. You might hike or ride jeep. On top of the mountain is the ravishing landscape, and you can also enjoy the barbecue here.
Cu Lan Village, a brand new tourism site, a beautiful picturesque small village, situated amidst wilderness of primary forest under Lang Biang peak, away from Golden Valley 9 km.
Truc Lam temple, on Phung Hoang mountain, above Tuyen Lam Lake. This is not only the largest Zen monastery in Lam Dong, but also a fascinating site of Da Lat. Tourists might get on aerial cable to view the whole city and pine forest (50,000/round-trip ticket).
Datanla Waterfall attracts tourists with clear water stream flowing over 7 floors and flushing down the rocky mountain slabs, splashing white foam. 5km from the center, from Highway No. 20, turn 300m downhill to a small valley, visitors will encounter Datanla fall of an attractive landscape and unspoiled beauty.
Some local specialties you should try naming soup cake, water fern cake, beef rice noodles, grilled pork rolls, pancake, fresh strawberry ice cream, pancake egg roll, avocado ice cream, etc.
Dalat purple mist sunset always haunts travelers. Come and enjoy the mystical scenery, fresh air, pleasant cool, temperate weather, exuberant gardens full of fruits, vegetables during four seasons. Bet you feel great.
If this place is in your travel plan, please check out Vietnam Motorbike Tours Prices or feel free to contact us to get the rate of trip.