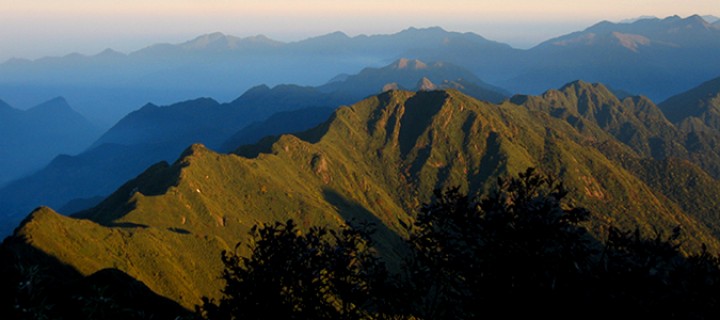 Fansipan 3143m high is Vietnam's highest mountain, located on the majestic Hoang Lien Son range, within the territory of Lao Cai province. It is also the highest mountain in three Indochina countries and called by "Roof of Indochina".
Fansipan locates about 9km southwest of Sapa town, in the area bordering Lao Cai and Lai Chau provinces in the mountainous northwest Vietnam. Lying in the heritage area of Hoang Lien, today Fansipan has a very rich and diverse fauna, especially in plants. According to the scientists, Mount Fansipan is formed more than 100 million years ago. There are 1,680 species of Fansipan plants and 679 kinds of 7 groups, including some very rare.The old-growth forest with tall trees cluster close together, typical for tropical primitive forest including two distinct plant layers of giant trees and underbrush.
As local people names  "Hua Xi Pan" it means "giant protruding slab".So far, Mount Fansipan has always been a desirable places to conquer by many climbers, adventurers and tourists whether onroad or offroad ride. The best time for mountaineering is from September to March. However, the trail leading to Fansipan is most beautiful in the end of February, when the flowers bloom on the mountain.The colorful floating clouds, mingling with the subtle green of the hills make the scenery become extremely romantic and unique.
A day in Fansipan covers all 4 seasons. At times, heat is scorching as summer days, sometimes it turns cool as autumn, also warm and suddenly chilly as winter. More interesting is to explore Fansipan on days that azalea bloom in the forest, a beautiful and full of vitality on this majestic mountain, listen to the birds chorus, the wind, the sound of murmuring waterAs up near the summit, the clouds hide almost the entire peaks, revealing a stunning scene like paradise.
There are three routes for you to choose, Tram Ton – Fansipan peakas this route characterizing mostly plain paths suitable for novice who have never or barely climb mount and have moderate physical. The second option from Shin Chai, this route features very steep cliffs and suitable for experienced climbers having good physical. In stead, the scenery here is superb with immense golden bamboo over the hills. The third route from Cat Cat is only for ultra-high capacity and good skill climbers, it characterizes the longest, hardest route, most winding and cursed withleeches.
Climbers will cross the vast green forests, wading through the murmuring streams flowing through the forests of cork, even down the slope deep chasms, climb over dangerous steep cliffs. And enjoy the bird songs, the mild wind. All creates a gorgeous colorful picture. To reach the highest peak, you will have to cross approximately 30km in forest. Average 15km each day and stop at stop points 2.200, 2.800 with dozens of undulating mountains, multiple crooked segments, a vertical cliff on one side, the other side is deep chasm.
Of all, the challenging adventure well deserves your tremendous attempt. You will burst into happy tear when finally reaching the last point after overcoming the steep, erecting and dangerous trek. As Vietnam Motorcycle Tours reviews the experiences when climbing Fansipan mount definitely will be unforgetable.
In some motorbike tour program we stay one more free day in Sapa town. So if you fall in love with trekking to this epic mount please let us know, ADV Vietnam Motorbike Tour and Dirtbike Travel will arrange everything for enthusiasts to a fascinating trek up this peak.