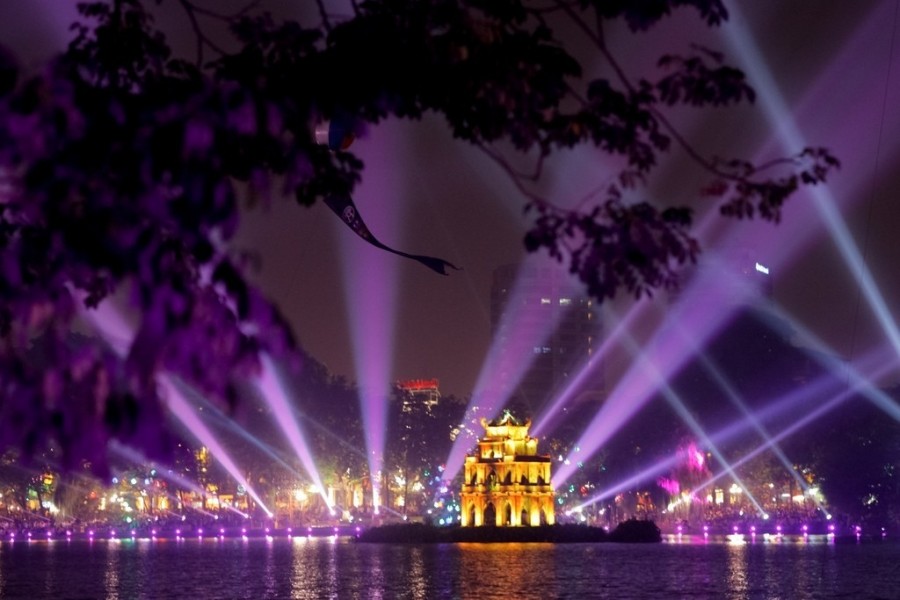 Vietnam is located in Southeast Asia and covers a total area of approximately 329.314 km2. The country has a long coastline of approximately 3.200 km. Vietnam shares its border with China to the North, Laos and Cambodia to the west, is bordered by ocean on the west and south.
LANGUAGE:
The official national language of Vietnam is Vietnamese and it is influenced a little bit by French and Chinese. Vietnam also has many ethnic groups and each of them has their own language to use in daily life.
PEOPLE:
According to the statistic in 2015, Vietnam has a population of 91 million people. There are 54 distinct groups in Vietnam. Each has its own language, lifestyle, and cultural heritage. The largest group is: Kinh (Viet) 86.2%, after that is Tay 1.9%.
CLIMATE:
Vietnam has a tropical monsoon climate. The weather varies and changes from one region to another due to the country length. Regions located near the tropics and in the mountainous regions have a slightly cooler, more temperated climate. The annual average temperature ranges from 22°C to 27°C year-round. There are 4 distinctive seasons in the North of Vietnam while only 2 seasons in the South of Vietnam: dry and rainy seasons.
RELIGION:
Viet Nam is a country of different religions: Buddhism, Confucianism, Christianity, Cao Dai and Hoa Hao.
CUISINE:
Vietnamese food draws a lot of attention of tourists and has long been famous in many different countries in the world because it is very delicious. Vietnamese cuisine reflects its geography and history. The way of cooking, spices, materials are flexibly changed in the North, Middle and South of Vietnam. Rice still plays a very important role in every meal of Vietnamese people. Come to each region, you should join in a food tour to try all of the best delicious dishes ever. Even the well-known Pho has different tastes in each place you come.

CITIES AND PROVINCES:
Vietnam has 63 provinces, in which there are 5 major cities or municipalities (city-provinces): Can Tho, Da Nang, Hai Phong, Ha Noi, and Ho Chi Minh. Hanoi is the capital of Vietnam and Ho Chi Minh is the largest and richest city in Vietnam.
ABOUT TOURISM:
With the slogan of "Vietnam Timeless Charm" used officially for the National Tourism Promotion Programm during 2012 – 2015, Vietnam welcome many tourists from all over the world and now becomes one of the most popular destinations. Coming to Vietnam, tourists can learn more about the traditional cultural lifestyle of many ethnic groups, enjoy yourselves in the beautiful nature of mountains, forest, rivers, and quite beaches or to breathe the vivid noise of Vietnam's historic metropolis cities.
Vietnam is also so attractive for it is considered as a country of World Heritage Sites such as:
Halong Bay– UNESCO World Heritage Site listed in 1994
Phong Nha Ke Bang– UNESCO World Heritage Site listed in 2003
Hue Complex of Monuments– UNESCO World Heritage Site listed in 1993
Hoi An Ancient Town – UNESCO World Heritage Site listed in 1999
My Son Sanctuary – UNESCO World Heritage Site listed in 1999
Thang Long Imperial Citadel – UNESCO World Heritage Site listed in 2010
Ho Dynasty Citadel– UNESCO World Heritage Site listed in 2011
Another UNESCO recognized heritages in Vietnam:
Hue Royal Court Music– recognized as World Oral History Treasure and Intangible Culture in 2003
Tay Nguyen Gong Music– recognized as masterpiece of the oral and intangible culture of humanity in 2005
Bac Ninh Alternate Singing– recognized as Intangible Cultural Heritage in 2009
Ca Tru Singing– recognized as Intangible Cultural Heritage in 2009
Xoan Singing– recognized as Intangible Cultural Heritage in 2011
Famous destinations in the North of Vietnam:
Hanoi: Well-known as the capital of Vietnam where you can visit many famous relics such as Temple of Literature, Ho Chi Minh complex, Hoan Kiem lake, Long Bien Bridge, The old quarter and a thousand of pagodas, temples and museums.
Sapa: a small town inside the rolling hills with cool weather all year around. Sapa is the best place to see the ethnic groups and enjoy trekking to the villages of the local. Muong Hoa valley, beauty of plenty flowers and wonderful terraced rice fields will be the highlight of the tour.
Ha Long bay: The bay is so famous that any tourist coming to Vietnam want to get there at least one time in their life and also want to come back again and again. Once you get on the boat, what you see will be in a difference world with blue water and a lot of beautiful and natural limestone. Ha Long bay has many caves to discover such as Dau Go, Thien Cung, Sung Sot…
Ha Giang: This destination appears in mind of all tourists by Spectacular scenery of green mountains, winding rivers, flower valleys and serpentine roads. Come here, please do not miss Meo Vac, Dong Van market.
Famous destinations in the Middle of Vietnam:
Hue: Known as the Imperial Citadel of Vietnam which contains a series of palaces, ornate halls, libraries, residences, and colleges. So far, Hue remains to be the only originally historical vestige city in Vietnam. Festivals are also attractions of Hue which includes of 2 main kinds of festival: royal festival and folk festival. Hue is also very famous for its cuisine.
Hoi An: Just 30 kilometers south of Da Nang, the little port town is very well-preserved with old streets bordered with ancient houses. Hoi An's specialities are plentiful and particularly tasty and cheap. Coming to Hoi An on the 14th of every lunar month, you will see all the lanes are decorated with colorful lights and lamps. "Lantern festival" is held on the 15th of every lunar month, it is the day when all electrical equipment is off and all town is lighten by colored silk, glass and paper lanterns.
Nha Trang beach is not only famous in Vietnam but even in the world. Nha Trangis endowed with great natural advantages of beaches, islands, mountains, and rivers. Nha Trang is also a great spot for scuba diving and snorkeling.  Vinpearl Land is a must see when you come to Nha Trang.
Phong Nha Ke Bang National Park is 60km from Dong Hoi city, Quang Binh province.
Famous destinations in the South of Vietnam:
Mekong delta: There are over a dozen towns in the delta with facilities for tourists with boat trip in My Tho. From My Tho, you can visit the other provinces in the Delta such as Ben Tre, Cao Lanh, Sa Dec, Vinh Long, Can Tho (the largest city in the region), Ben Tre, Soc Trang, Chau Doc, Ha Tien.  The size of the area covered by water depends on the season. The attraction to this region is the way in which life exists around the comprehensive river system.
Ho Chi Minh city: It is the largest and also the most populated city in Vietnam. Ho Chi Minh city is a very dynamic city with great night life. Traveling to this country, you should visit Ben Thanh market, War Remnants Museum, Cu Chi Tunnels, Cao Dai Temple, Bitexco Tower and Sky Deck, Jade Emperor Pagoda, Reunification Palace, Notre Dame Cathedral.