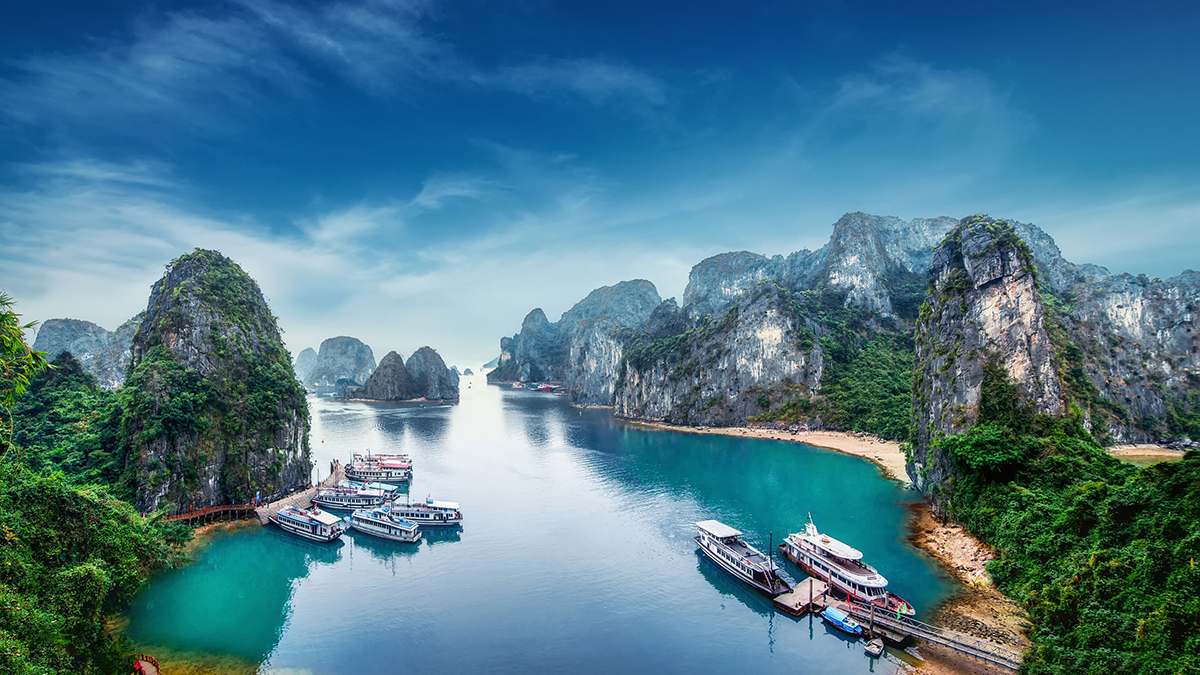 HA LONG BAY – ATTRACTIVE DESTINATION
Follow ADV Vietnam Motorcycle Tours and Dirtbike Travel to Halong Bay which is a notable tourism destination of Vietnam, situating in the Gulf of Tonkin inside Vietnam's northeastern sea. Owing to thousands of spectacular islands, series of islands, limestone and schist with majestic structures and shapes bestowed by the nature, Halong creates a giant superb literati painting, and has long symbolized for Vietnam's tourism charms. Halong Bay was recognized as a natural world heritage by UNESCO. Thanks to its stunning scenery, Halong bay always attracts domestic and international tourists year-round.
You may travel here by different types of vehicle means such as train, car, motorbike, even seaplane – a new transport type which shortens greatly the time to move between Hanoi and Ha Long, providing a bird's eye view the scenic seascape of Ha Long bay. In particularly, for those love self-planned, free, dusty and cost-efficient journey, get Vietnam Motorbike Tour to this place shall be one of ideal options. The shortest route of Hanoi – Bac Ninh – Ha Long stretches about 155km. You will reach the place in around 4 hours. And save a lot of time for hanging around, sightseeing if you plan to stay a couple of days.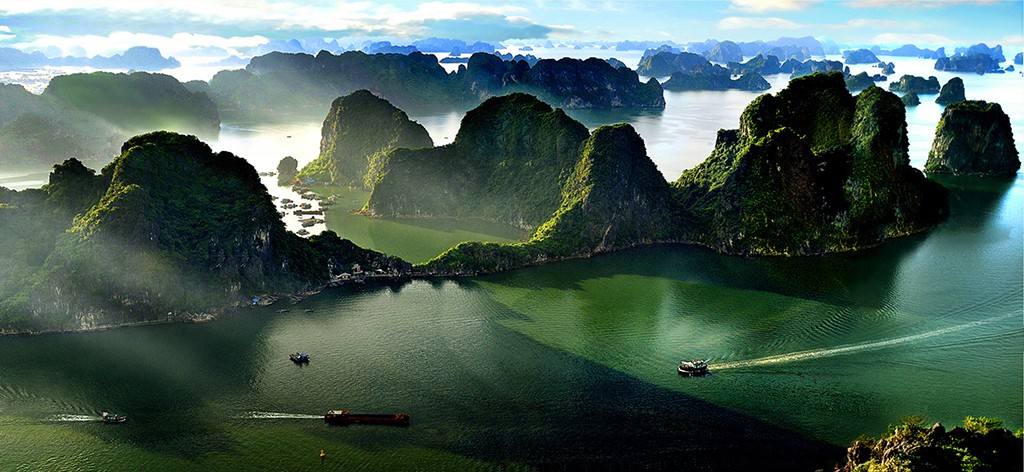 Certainly tourists all want to make an offshore voyage to the islets and swim in the endless blue water. You should rent to share acanoe of 100 to 150 thousand dong per person. If travelling in group or family you had better rent a private canoe. The cost would range from 1.5 to 1.7 million dong/trip within 4-6 hours (in the high season from May to August the cost may be higher).
When travelling here, tourists might visit Bai Chay Beach Resort situating along Halong Bay, suitable for relaxing and bathing. The resort enjoys breeze from sea year round, the annual average temperature is above 20°C. Likewise, visitors can stopover Co To island, admire the stunning coral reefs while swimming here. This island still maintains a rare pristine beauty in the middle of a hustle Ha Long bay. Especially, Tuan Chau Island which is the most beautiful islands among the 1,969 islands in Ha Long Bay, is also the only inhabiting island. Tra Co the largest artificial coast of Vietnam with white sandy slopes is an ideal place to have fun and participate in exciting water games.

And you cannot miss Hang Luon either, a huge cave system, each cave features its own beauty and the stories attached to it. One of the typical cave is located on Bo Hon island, 14km from BaiChay. Here you can realize the stalactite that are formed over millions years with various shapes and different sizes. In front of the grotto is the Turtle islet, its right is the Gate of Heaven.
Sung Sot Cave also locates in the central area of Ha Long Bay, on Bo Hon island. Inside Sung Sot Cave there are stalactites to be fossils with an abundant shapes. Sung Sot cave is situated in the region having many famous spots of Ha Long bay (Ti Top beach – Bo Nau cave – Me Cung cave – Luon Cave – Sung Sot Cave) and was named by French "Grotte des surprises". If you wish a spiritual pilgrimage, Yen Tu relic is a good choice. This is a system of pagodas, shrines, towers and ancient trees blended with the natural landscape, scattered from the Red slope to Yen Tu mountain.
Various exciting things you might discover in journey with ADV Vietnam Motorbike Tours and Dirtbike Travel to Ha Long bay during four seasons. Come and enjoy the beautiful scenery, spare sometime for your soul, escape from mundane life and recharge the vitality. You will realize how beautiful the life is.