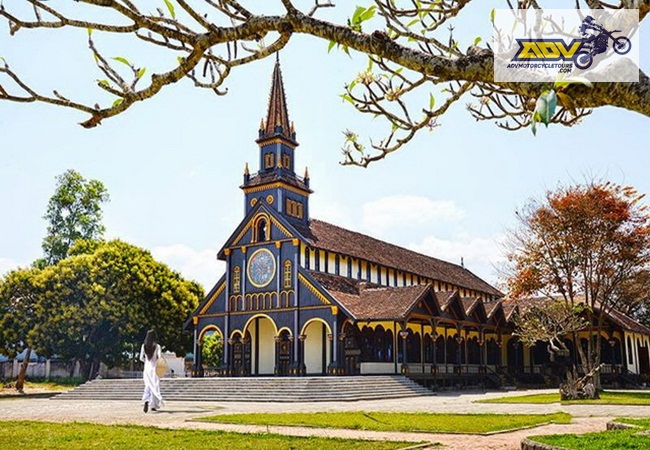 Come upon Kon Tum –the only Indochina junction in Vietnam
Today, ADV Vietnam Motorcycle Tours and Dirtbike Travel will help you plan your trip in Kontum. Info being shared in this Vietnam travel guide is useful for both on-road and off-road riding as well.
Kon Tum Province locates in north of Highland. In the Ba Na language, Kon Tum and lake means a historic village near the big lake next to the Dak Bla River. In addition to the legendary epics, this Central Highland province attracts tourists by the unique location in Indochina junction – where "cock crow spreads in all three countries Vietnam – Laos – Cambodia".
Attractive places here
From Phan Dinh Phung Street, Kon Tum City, due southwest about 1 km, national historic sites Kon Tum prison solemnly displays the rows of cypress, nacre. This prison was built to detain political prisoners during 1930 – 1931. On the national historic site, tourists will visit monument complex, including the memorial, a traditional home, welcome section, monumental clusters and two mass graves in windy waterfront Dakbla.
Kon Tum bishop's chapel built around 1935characterizes a harmonious combination between Western architecture and native design. Passing the small gate, visitors can slowly stroll and inhale the gentle fragrance of Fragipane. One of the highlights at the Kontum Bishop is the traditional home, may view this as a small museum of domestic utensils, farming tools, objects of indigenous inhabitants in the province. The displayed artifacts, maps meticulously carved in wood here bear much value.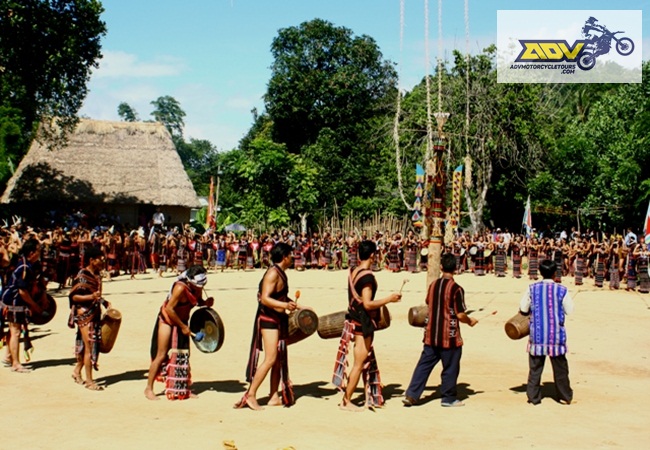 Kontum wooden church places inside the city center. The building was designed manuallyby a French priest in 1913, combining the Roman style and stilt house of Bana tribe. Kon Tum Cathedral, or Wooden Church,constructed without concrete, mortar, the uniqueness of this area is its entire mud-straw ceiling and walls, though a century passes, still remains solid, durable over time.
Bridge connecting the two shores of DakBla River is surrounded by villages and fields of sugarcane, rice, corn. Besides the suspension bridge stand a communal house – The largest traditional communal house in Highland. KonK'Tu village about 8km from Kon Tum city to the east, mainly inhabited by Ba Na ethnic still maintains the gongs, dancing team, the traditional festival, and original culture.
A special feature of Kon Tum Province is DakBla River which resembles a soft flying silk across Kon Tum city,DakBla river not only provides water and rich sediment source for agriculture cultivation but also is one of the expeditionfor all travelers.
Mang Den has a very special location between 2 large passes Mang Den and Violak (QuangNgai), Mang Den area remains almost intact, primeval forest area accounts for over 80% of the natural area, over 4,000 hectares of pine forest create remarkable diversity and similarities to Dalat. Mang Den locates at an altitude of 1,000m above sea level, average temperature fluctuates between 18oC – 20oC and ethnic minorities account for nearly 90% the total population.
Indochina junction is not only famous during the resistance war against the US, but today are becoming more attractive for tourists on a journey to Kon Tum –the Vietnam northernmost Highland. Indochina junction landmark on the majestic Truong Son range always remains in memory of soldiers, young volunteers on the way to the southern battlefield, battlefield C (Laos), battlefield K (Cambodia) throughout those ferocious years.
There is no airport in Kon Tum, so if you want to arrive here by plane, first fly to Pleiku airport, 50km from Kontum. Pleiku airport has flights provided by Vietnam airlines to Hanoi, Da Nang, Ho Chi Minh City. Flight Hanoi/Ho Chi Minh City – Pleiku operates daily but no Da Nang – Pleiku flight on Monday and Wednesday. From the airport you can catch bus to Kon Tum. Or more simply, take a taxi.
Furthermore tourists can enjoy the typical dishes here like stream fish-oecophylla smaragdina, fermented cassava leaves, wild chicken salad fermented cassava leaves, vegetable fern, or salad leaves (including more than 30 types of forest leaves, boiled pork meat skin of pork, boiled shrimp, a little green pepper, chili blending into a strange taste, flavor).
Owing to the geographical trait, Kon Tum should be lovable among backpackers, wild nature and rough terrain definitely urge enduro ride. Don't miss chance to explore more this mysterious, enchanting region whose unusual dish might surprise your nerve at first but later barely anyone can resist the nutritious, marvelous recipe. Let's travel and learn.