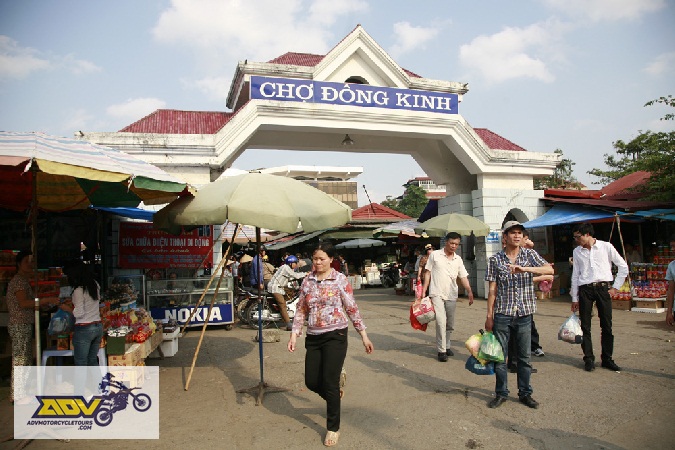 Tour to the northern intriguing destination of Lang Son province
Referring to Lang Son, a mountainous province in the northeast of the country surely reminds you of Mau Son mount, where snow often appears in recent years thus has attracted a lot of tourists. However this land not only fame for its markets, shopping hubs near the border gate, but also enthralls tourists for the legendary stories, beautiful natural scene and historic sites that you probably never heard of.
Lang Son distances Hanoi 180km northeast, so you can travel here at any time of the year. But ADV Vietnam Motorbike Tours and Dirtbike Travel recommends you to come in winter when mountains are blanketed of white snow. This is an original spectacle in Vietnam, a rare opportunity to admire snow.
You have 3 ways to move from Hanoi to Lang Son:
– Passenger car: Take car from My Dinh, Gia Lam, Luong Yen Bus stations to Lang Son with the fare range from 100,000-170,000VND/person.
– Train: If taking the train from Hanoi to Lang Son, you need to catch the one route HDR1 DD3: Hanoi-Lang Son-Dong Dang. DD3 train runs at 6am and arrive Lang Son at 11h07, and HDR1 train departs at 9:45 and arrives at 12h57. Fare ranges from 80,000-115,000VND/ticket/person, depending on the type of train and seat.
– Personal Vehicles (motorcycles or cars): If you move from Hanoi to Lang Son with personal vehicles, you have 2 options:
Hanoi – Bac Ninh – Bac Giang – Lang Son. Acc
ording to the professional backpackers, this is the appropriate off-road ride for motorcyclists to explore.
Move by the highway 5 and into national highway 1A. This route is suitable for cars.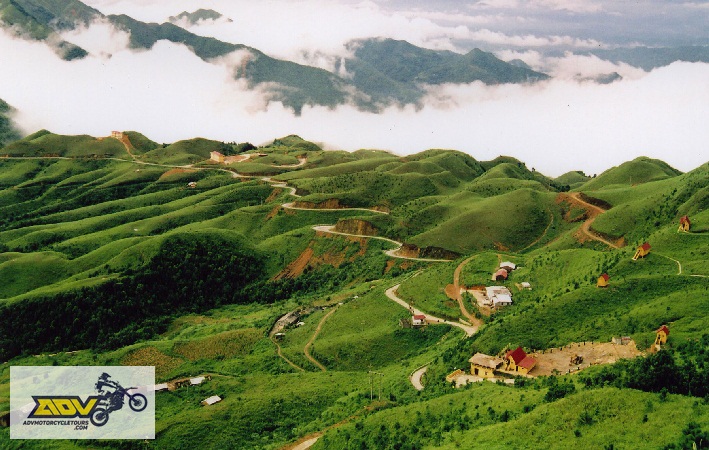 The attractions
Fairy cave temple: Away from Ky bridge half a kilometer, on the way to Mai Pha, there rises an elephant rock amidst fields. That's the great statute standing nearby the fairy cave temple, one of the eight scenes that were recorded by Ngo Thi Si. The temple suspends on mountainside, 64 steps leads to its entrance, side door facing east, with patio doors, a trail approaching the lake. Behind Elephant Mountain – Fairy temple stances half way up the mountain on the stone slab which is the fairy well with wellhead 20cm wide whose precious water sprinklers all year round.
Located in Vinh Trai Ward, north bank of Ky Cung River, the temple was initially considered a sacred place, where local worshiped Giao Long (Water Genie) to keep the good weather for bumper crops. Ky Cung river in this section forges lots of rocks in the middle of the river, heaving rocks at the water, the waves splash on the rocks, water recess forming white foam waves, spreading relentless strips, very spectacular. Legend told that diplomatic delegates of Vietnam during feudal eras to China used to stop here at the stone wharf, prepared offerings at this temple, pray for a smooth trip.
Mac Dynasty Citadel locates in Tam Thanh Ward, Lang Son city, the monument of military architecture reflecting a period of Vietnam feudal. According to the historical materials so far, this once used to a major military base on the sole path connecting the North to the South built in the sixteenth century. Now, the remnant reminds people to the glorious day. Path from the foothill to the gate consists of several steps, the gate seems faraway, so small. But when atop, the view opens an airy setting. Standing inside overlooks the prime of the land, facing the valley of rice fields, then the bustling villages, surrounded by the mountain layers, you'll feel so lonely before the immense sky and land.
Nhi Thanh cave was discovered and embellished by Ngo Thi Si. By the right side of the temple is Tam Giao temple which characterizes a special architecture: no roof, no design, the altar is placed in the cave, cavern making us feel natural together with stalactites creating spectacular and the sacredness of this temple. In the left is the trail to Nhi Thanh cave and Ngoc Tuyen limpid spring hidden under bushes which looks so poetic. Outside, a height lies the inscription in Chinese "Nhi Thanh Cave" of big size engraved on the cliff.
Further about 100m, through two small bridges spanning over the stream that winding segments has opened up a large space with a soaring roof, inside there is a waterfall pouring down the rock cracks along Ngoc Tuyen creek underground forming the mystic sound.
Tam Thanh cave and Tam Thanh Pagoda are cultural, historical monuments, famous landscapes of Lang Son. Tam Thanh Pagoda is a special Buddhist temple, arranged in the cave, but no architecture like the other temples. Currently in the temple there straddles a system of Mai Nha stele rich in terms of historical value and cultural artistics erected by poets through the historical periods. Especially, the temple preserves images of Adida dated back the seventeenth century carved into the cliff in the shape of a bodhi leaf.
Dong Kinh market is the largest shopping center in Lang Son City. It has 3 floors, 1st floor for selling electronics, 2nd floor for grocery goods, and 3rd floor for fashion fans. In the past, this place was also a trading point between the two countries Vietnam – China. Today the market becomes modern and busy by the side of Ky Cung river. Many visitors choose to come here when visiting Lang Son.
Ky Lua Night Market opens from 8h to 22h selling all kinds of goods for tourists, not merely a place to exchange goods but also a place to meet friends expressed by ancient cultures vividly. This market bears deeply the identity of frontier region which will leave a profound impression in the tourists' mind.
Lang Son fortress is a military architectural monument located in Chi Lang Ward – Lang Son City. During feudal eras, it was the center of politics, economy, culture of the province. Once, this construction kept an important role in military defense of the country's gateway in the city of Lang Son valley, surrounded by high mountains.
Lang Son has many delicacies that partly gets influences from cuisine of China, so we suggest that you should not ignore certain foods like egg rolls, suckling pig, roast duck, overdone stewed meat, Mug wort cake, cake topping, etc.
Lang Son, the border land bestowed with with many sites, caves, temples, enthralling landscapes and good dishes originated from China while characterized Vietnam's flavor shall become your favorite destination. Visit soon to explore.