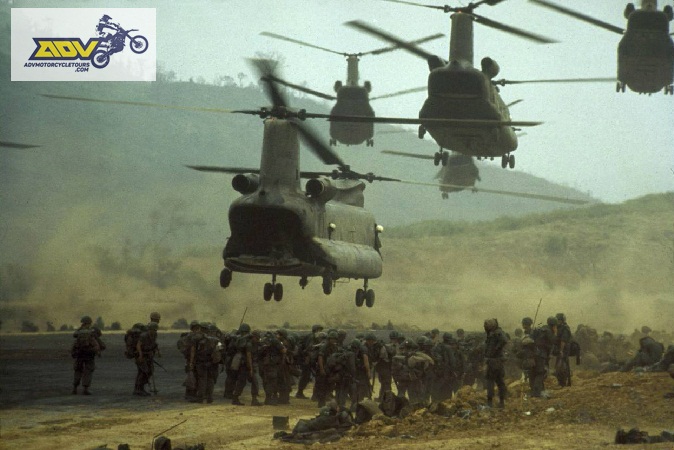 Tour to Quang Tri – the former ferocious battlefield of Vietnam
Quang Tri was the center between South and North of Vietnam, during the time of the Vietnam War, the region was devastated severely by intense bombing (On average, every citizen of Quang Tri has suffered 7 tons of bombs) as well as the fierce clashes happened here. Owing to such historic condition, Quang Tri today has become a location with favorable conditions for tourism development. Naturally, it also has many beautiful landscapes such as beaches, rivers, primary forests and other landmarks or famous historical sites such as Battle of Khe Sanh and Vinh Moc tunnel.
Besides, Quang Tri owns natural and human resources, the geographical conditions – accessible transport by road, waterways and air. These are favorable factors for tourism development. Quang Tri as well characterizes many landmarks, historical sites and beaches for example, Cua Tung beach is one of the ideal stop. The land locates on the interconnecting hub between Hue Central Heritage and Quang Binh. But perhaps due to the harsh climate, the tours here seem scarce. But according to Vietnam Motorbike Tours and Dirtbike Travel, it is certainly an incredible point for backpackers who prefer to explore the historic sites and former ferocious battlefield.
When travelling here you should avoid specific time during May and June as it would be sweltering and stuffed, while storms often occur from July to November, thus arrange your plan in the other months.
Tourists might access Ha Tinh by a variety of transport means including train, passenger car or plane, certainly by motorbikes if you do not hesitate to join out a Vietnam motorbike tour. To save time, simply catch a plane to Quang Binh, or to Hue, then take a bus to Quang Tri.
Some outstanding attractions in Quang Tri
Battle of Khe Sanh is located in Tan Hop commune, Huong Hoa district. From the city of Dong Ha, you travel along Highway 9 to reach Huong Hoa district, and then Tan Hop commune (about 64km from Dong Ha city center). This landmark fames for 170 days and nights of fierce fighting between Vietnam and the US and its obsession about "Dien Bien Phu in Khe Sanh".
Lao Bao border gate: in Lao Bao Town, Huong Hoa district, from the city of Dong Ha, you go straight along Highway 9 to Lao Bao border gate (about 81 km from Dong Ha city center). This is a cross border with Laos which seems very busy, thanks to the quick procedures. After completing procedures you may enter Savannakhet province for a tour. Through this gate, tourists can bring motorcycles along, very convenient (Laotian alsovisitVietnam's beach by motorbikes). You should drop by Lao Bao trade center, where a lot of goods are imported from Laos, also quite cheap and 3km from Lao Bao border gate, there stand remnant of Lao Bao prison. Just take a glimpse.
Con Tien is located in Hai Thai, GioLinh district. From the city of Dong Ha, you take Nguyen Du road, Ho Chi Minh Road due east to reach Con Tien (about 23km from Dong Ha city center). This used to be the military base of the US to divide the country into two regions.
Truong Son Martyrs Cemetery locates in Vinh Tuong Commune, GioLinh District. From the city of Dong Ha, you take the road of Ho Chi Minh due east to approach here (about 31km from Dong Ha city center), along the way you will encounter Con Tien.
The cemetery built in 1975 traits collective graves of martyrs of Liberation Army of South Vietnam and the Vietnam People's Army. This cemetery is the largest scale in Vietnam, the tombs of the martyrs are grouped on base of province. In May 4/2006, the number reaches 10263 graves.
Quang Tri Citadel locates in Ward 2, Quang Tri Town. From the city of Dong Ha, you go along Le Duan road, then take Highway 1A in Quang Tri Citadel (about 17km from Dong Ha city center). This city was constructed in 1809, under Gia Long dynasty. It was initially built out of earth, later was rebuilt with bricks. When the French dominated here they turned it into a prison to detain political patriots. This is also the place witnessing fierce battles in the years 1968, 1972. Especially in 1972, in the battle between Vietnamese troops and the American Empire, it was destructed, only the gate in the east left until today.
Vinh Moc Tunnels locates in Vinh Thach, Vinh Linh. From Dong Ha city you travel along Highway 1 and Highway 70 to arrive the tunnels (about 35km). Tunnels were built in 1965 and finished after 2 years. The total length of the tunnel stretches about 2000m, the apartment distanced by 4 meters would be the space for a 4-person family that sizes 0.8m wide, 1.8m deep. This tunnel system includes 3 floors: the first floor about 12m deep, used as a place to live; second floor about 15 meters below ground to store weapons, food and for meeting; third floor in a depth of 23m to avoid the bombs. Especially the 3rd floor 3m above sea level still remains dry in the rainy season, the tunnel looks intact even today.
Cua Tung is in Vinh Quang, Vinh Linh. From Dong Ha city you travel along Highway 1 and Highway 70 to Vinh Quang commune (about 34,6km from the center of the city of Dong Ha). In summer, Cua Tung is always crowded, because the sea here looks very beautiful: white sand, blue water. However, by October, the water appears a lot of seaweed thus it is not as clean, but you can enjoy delicious food from seaweed instead.Once travelling here, you should stop over Vinh Moc Tunnels, because they distribute quite near to each other.
When visiting Quang Tri, tourists definitely enjoy small stuffed glutinous rice flour balls, buffalo meat, stewed ham, Phuong Lang steamed rice paper, Quang Tri flour porridge, Tapioca starch with shrimp, sizzling cake, baby basket clams noddle (Gio Linh), etc.
Bygone the war, a heroic land has become the legend, come and listen to stories of the unyielding, indomitable locals and show gratitude to the soldiers whose sacrifice shall be an eternity. Hope you a nice and interesting journey to this land.
This place is the part of Ho Chi Minh trail motorbike tour which will give you the best memory in Vietnam