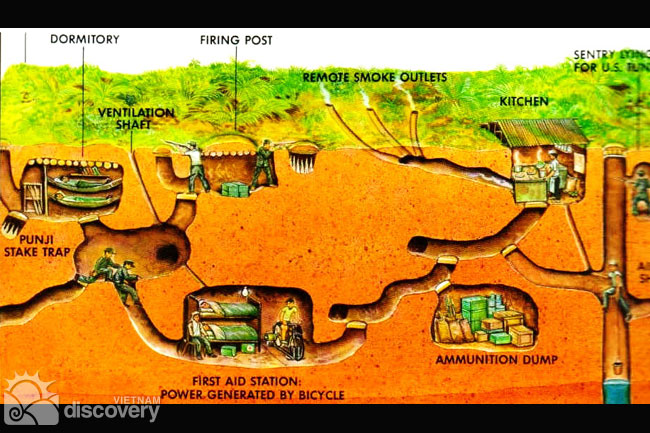 A brief look into triumphant history and ADV Vietnam Motorcycle Tours and Dirtbike Travel will accompany you in this exciting journey. Cu Chi is famous as "the iron land" of Vietnam. As travelling here, you can explore the mysterious tunnel in the ground, and participate in the East Sea simulation, entertainment games and enjoy the special dishes only in Cu Chi.
Cu Chi is 70km from Saigon center to the North-West, you can reach the place by taxi, motorcycle or bus. Travelling by motorbike from Ben Thanh market, you move along Highway No. 22, to the territory of the Cu Chi area turn into Nguyen Thi Rach road and head straight. Or you can go to Hoc Mon market, move along Trung Nu Vuong Street, then run ahead to Tan Quy at 4 turn and then continue straight 15km to the tunnel.
Along the way, drop by Cu Chi wildlife rescue station, this is the place to rescue and treat trapped or sick wild animals before returning them to the wild. Rescue stations locates between Ben Dinh and Ben Duoc temples, about 1km to Cu Chi tunnels.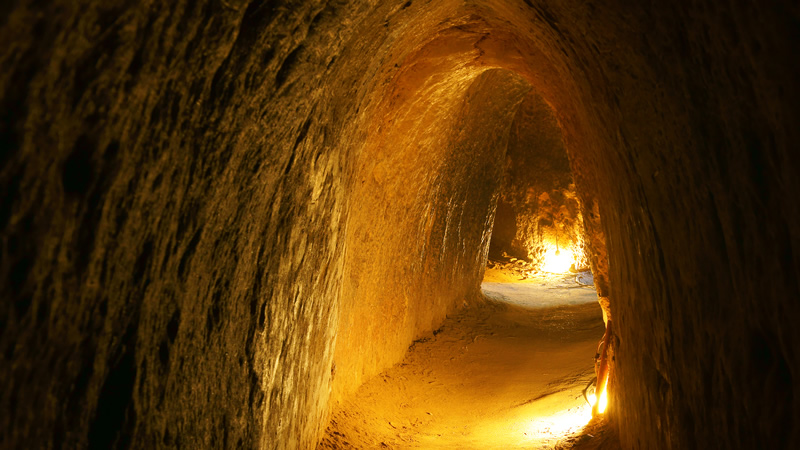 Since going into operation, the station has saved about 3,600 animals of different varieties of rare species so far. Therefore, it is advised to spare time and visit the animals, better understand the work of the wildlife rescuers.
Then, come to Ben Duoc temple, here you will see Tam Quan gate, an epitaph, 9-storey tower and the unique, massive main temple where people memorize the heroes sacrificing for the Cu Chi resilient land. After that, you will reach the tunnel. It is the best part because you will be exploring every corner of the tunnel which is well known in Vietnam and the whole world. Your visit is in the tunnel about 120 meters long though the total length of this tunnel extends up to 200km, a small part of which has been enlarged for more comfortable visit. Especially after getting exhausted, you might enjoy Chinese Yam or cassava eating with sesame and drink free at Hoang Cam kitchen.
If you want to see the entire war in Cu Chi tunnels then go to war reproduction zone. With vivid models, and eloquent, fascinated speech, the entire war has been rebuilt detailed. In the back there is the reconstruction of monuments, Vietnam's  famous landscapes such as Nha Rong Wharf, Hue, One Pillar Pagoda, Saigon bridge, Long Bien bridge, My Thuan, and the Paracels, Spratlys.
Another attractive service is shooting area and preferred by most tourists. And then to the East Sea simulation pool, after sweating for tunneling and shooting game, head to the pool and delight in the cool water. then the shower enjoy the most fresh fruit in Trung An fruit orchard.In particular, this place is famous for pig's legsrice vermicelli, dish from heifer and drink blending of sugar juice and durian, don't miss a try.
Finally, you must have a great and fun trip with our Vietnam motorbike tour to Cu Chi tunnels – a witness, great construction reflecting the unity of Vietnamese people during war time. Come to see in your own eyes the old battle now becomes a legend.