This is an epic Mai Chau motorbike tour program which is especially designed for all riders, who love off-road riding and experience the unique culture and life style of the hill tribes in the Northern mountainous villages. In such a short trip of 3 days, we will be with you to ride through the exciting tracks to reach the far remote villages of different hill tribes such as ethnic Thai, Muong, Black H'mong… We will stay in their self-built houses, eat their tasty tradition food, and stream on the cool and clean springs which flow through the villages
Experienced tour guide on motorcycle (dirt bike);
Dirt bike Honda XR250L or/and Honda CRFL250L or/and Yamaha WR250R with mandatory insurance;
Gasoline and spare parts;
Home-stays (sleeping bags, mosquito nets, sheets, pillows…are provided) during Mai Chau motorbike tour;
2 breakfasts, 3 lunches, 2 dinners with non-alcoholic beverages (Vietnamese food);
All permits, tickets, entrance fees, boat trips, ferries, bamboo rafts, etc;
Green tea and drinking water;
ADV Vietnam Motorbike Tours Team provides support. We are with you along the way.
Support truck for luggage transport, back up bike and service;
Personal expenses, personal medical insurance;
Drinks other than tea and local rice wine;
Single room supplement if you request a single room;
Motorbike protection pants, jacket, gloves, helmet, rain gear and other safety equipment;
Train or flight tickets before and after your Vietnam motorbike tour;
Breakfast on the departure day and dinner on the return day;
Accommodation and food in Hanoi;
Tips.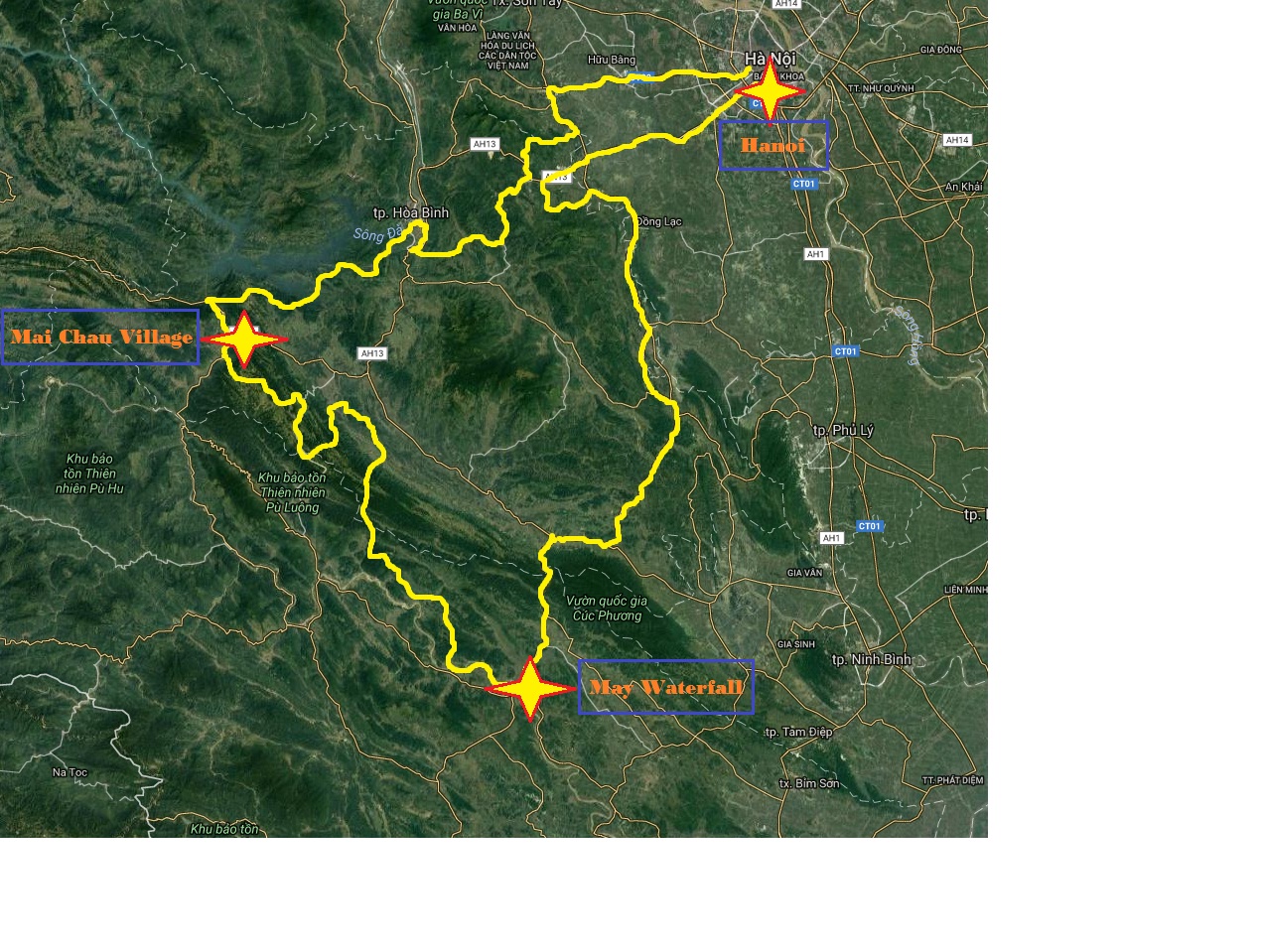 DAY BY DAY ITINERARY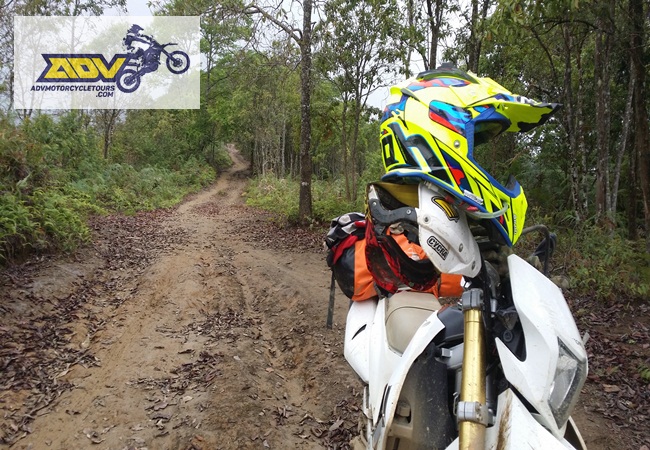 Day 1: Hanoi - Mai Chau village
At 7.00 am on the starting day of Mai Chau motorbike tour, the leader will come to your hotel and accompany with you to the starting point. You should get familiar with your bikes before hitting the road because the traffic culture in Hanoi is very different from that in your hometown. It's really crazy and doesn't obey any traffic regulation. After 60 km on the highway, we will ride straight up to the hill, cross river, through the forest with 30km off-road before lunch. After lunch, we will do a sightseeing trip gently then experience the last 20 km dirt-road to Mai Chau village before dark. Overnight and enjoy the cuisine of the White Thai people.
---
Distance/dirt-road: 160/50km
Duration: 7 hours
Level: Intermediate/advanced
Meal: Lunch, Dinner
Accommodation: Home-stay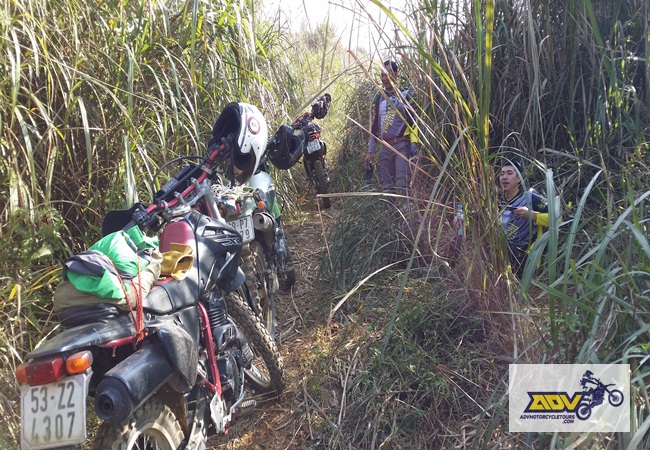 Day 2: Mai Chau village - May Waterfall
After breakfast, at 7:30, you will ride around the village then embank into the forest again to challenge yourself. This will be the most difficult day of the 3; therefore, the itinerary of Mai Chau motorbike tour may be changed in case of the bad weather conditions. As expected, we are going to Muong Village, take a break and have lunch there at 12h00. We reckon that you will not be able to hold your heart and want to jump right into the gorgeous cool stream along the stilt house. However, please do not hurry, we still have a long dirt track ahead in the afternoon and accommodation of this night is as wonderful as this place. It is located at the foot of the waterfall which is at the downstream of this spring. Cool beer, clean spring and beautiful accommodation are waiting for you
---
Distance/dirt-road: 120/70km
Duration: 6 hours
Level: Intermediate/advanced
Meal: Breakfast, Lunch, Dinner
Accommodation: Home-stay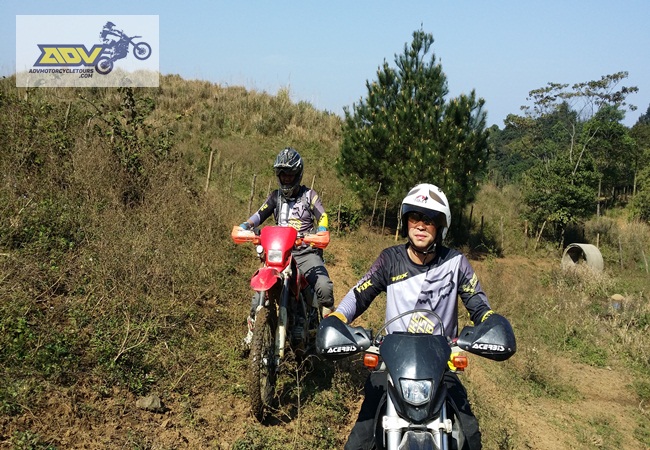 Day 3: May Waterfall - Hanoi
We will get up early as it is the habit of the local here. If you did not relax yourself in the waterfall the day before, please do not hesitate to do it immediately because may be you don't have the second time to visit this beautiful place. Otherwise, why not enjoy a cup of coffee beside the waterfall and have breakfast in the chirping sound of birds. The road ahead is not long, but very interesting because of the diverse terraces and beautiful nature.
Mai Chau motorbike tour ends at 16:30.
---
Distance/dirt-road: 140/35km
Duration: 6 hours
Level: Intermediate/advanced
Meal: Breakfast, Lunch
Accommodation: N/A