This Vietnam motorcycle trip is designed to bring riders a glimpse of Northwest where is not only still remained culture identity of mountainous tribe but also such a heaven for off-road riding because of its hard terrain. The remote area of Vietnam appeals to those wanting to get off the beaten track in one of Vietnam's most beautiful, unaffected and untouristed areas. If you are looking for a epic journey which you can stay with local at night and riding through jungle, cross river in the daytime then this tour was born to make your dream come true.
Experienced tour guide on motorcycle (dirt bike);
Dirt bike Honda XR250L or/and Honda CRFL250L or/and Yamaha WR250R with mandatory insurance;
All fuel and spare parts during this Vietnam motorbike trip;
Standard hotel (double, twins or triple shared room) and/or homestay (sleeping bags, mosquito nets, sheets, pillows…are provided);
3 breakfasts, 4 lunches, 3 dinners with non-alcoholic beverages (Vietnamese food);
All permits, tickets, entrance fees, boat trips, ferries, bamboo rafts, etc;
Green tea and drinking water;
ADV Vietnam Motorcycle Tours Team provides support. We are with you along the way.
Support truck for luggage transport, back up bike and service;
Personal expenses, personal medical insurance;
Drinks other than tea and local rice wine;
Single room supplement if you request a single room;
Motorbike protection pants, jacket, gloves, helmet, rain gear and other safety equipment;
Train or flight tickets before and after this Vietnam motorbike trip;
Breakfast on the departure day and dinner on the return day;
Accommodation and food in Hanoi;
Tips.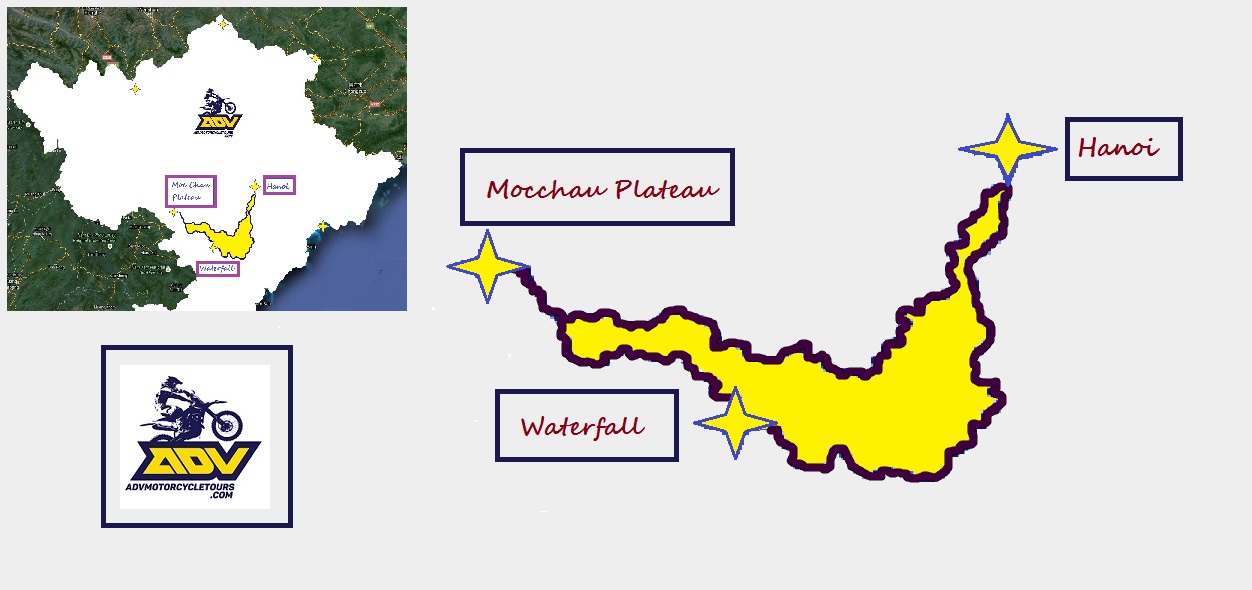 DAY BY DAY ITINERARY Day 1: Hanoi – Muong Waterfall
It is a difficult but so exciting start of this Vietnam motorbike trip to be out of Hanoi chaotic traffics and head to the Northwest mountainous region. It's such a beautiful day to ride through jungle, cross river and sometimes in stream bed. After the first hard day, you have a chance to sink in the cool waterfall in National Reserve Park and stay with local in stilt house near dreamlike spring.
---
Distance/dirt road: 150/35km
Duration: 6 hours
Meals: Lunch, dinner
Accommodation: Home-stay in stilt house of Muong people Day 2: Muong Waterfall – Moc Chau Plateau
Wake up in the early morning with babble of brook and sound of births everywhere. We will be on the saddle again to pass 50km dirt-road before lunch time at the valley Mai Chau where located by White Thai people. Leaving Mai Chau, we will continue riding on the road of the old National Highway No.6, it used to be a North West main road in the '80s and has been forgotten for several years. After 50km dirt-road along Da River, the third day of this Vietnam motorbike trip is finished in Moc Chau plateau -the beautiful highland of North West area.
---
Distance/dirt road: 200/60km
Duration: 7 hours
Meals: Breakfast, lunch, dinner
Accommodation: 3 star hotel Day 3: Moc Chau Plateau – Hanoi
Today, we will ride back Hanoi on different rout – the old National Road No.6. This road is parallel with the new National road No.6 and was known as the main road of the Northwest in the 80s. Since the new one was put into use, the old one has been abandoned and downgraded. However, because of this omission that makes the road have its own beauty. You will have a great opportunity to enjoy the spectacular scenery of the Da river, which is compared as Ha Long Bay on land. Overcome 40km off-road, short but hard, before we stop for lunch in Hoa Binh city.
The Vietnam motorbike trip will finish in our office before rush hour.
It's time to say goodbye!
---
Distance/dirt road: 220/40km
Duration: 7 hours
Meals: Breakfast, lunch
Accommodation: N/A