Peregrinate Tra Vinh province – Hospitable land of several dies non
Backpacker itinerary to discover the West land's diversity of cultural tourism, history, cruises, the popular coastal dunes and fruit orchards. You also explore the cultural identity of the region Kinh, Khmer, Hoa and 141 Khmer temples of unique architecture spread across the districts and cities in Tra Vinh and festivals imprinting ethnic culture year-round.
This province is beautiful in all seasons so you can come here at any time but if longing for festivals close by the locals, especially traditional festivals of Khmer ethnic people in the southern plains with its excellent traditional dance and release sky lights, April 14, 15, 16 in lunar calendar shall be better choice.
Tra Vinh is 200km from Saigon. ADV Vietnam Motorbike Tours and Dirtbike Travel suggest two ways to move from Saigon to Tra Vinh. First ride along Highway 53 or Highway Trung Luong (wider road, shorter distance than a few dozen kilometers).
From Saigon, you can buy tickets at the bus station to Tra Vinh or book prestigious suppliers such as Mai Linh, Tan Cuong, Thanh Thuy bus.
Located in Truong Long Hoa commune, Duyen Hai district, about 55km from the center of Tra Vinh town. Ba Dong beach has long been famous. Previously, the French had built on the most beautiful beach of Long Hoa field a resort for quiescence. Ba Dong beach still retains pristine features with white sand, clear water, fresh air and quietness.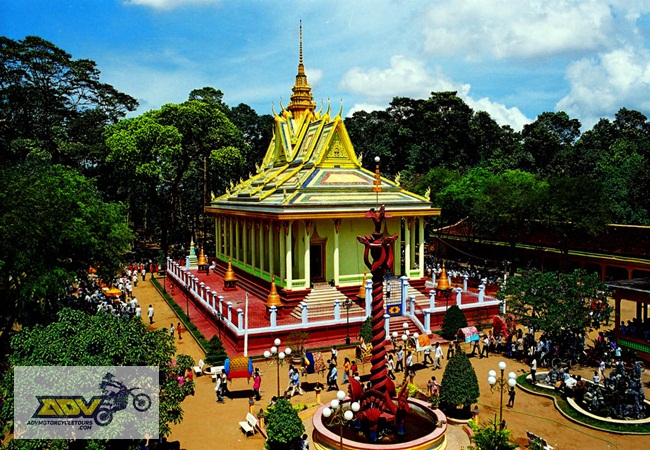 It features "undulating" sand dunes, with soaring rows of green casuarinas tree and attractive flat sandy beach stretches. Many of the items, infrastructure investment has sprung to serve the tourism potential in Ba Dong Beach like Long Toan bridge, Kinh Xang, Bai Don, Lang Chim ferry. This is one of the attractive resorts in Mekong delta.
Ba Om Pond in the village of Ta Cu, Nguyet Hoa commune, Chau Thanh district, is one of the most scenic spot of Tra Vinh province. Ba Om pond has rectangular shape 500m long and 300m wide. Calm and blue surface mirrors the ancient trees enclosed. Along time, the roots of the old trees around the pond bulge on the ground and form fanciful shapes.
Around the pond are high sand mounds shaded hopea odorata; The atmosphere feels clean and cool. At this point you will hear legends and thrilling stories about Ba Om pond. In 1994, the Ministry of Culture and Information has decided to recognize the Ba Om Pond to be a relic and national scenic spot.
The cave temple is in cluster 3, Chau Thanh town, Chau Thanh district, 5km away from Tra Vinh town to the south, traverse sluice gate Tam Phuong, visitors will come to the temple. Temple campus stretches extensive, half of the area consists of natural forest, dense tall trees, and a birdyard. Main entrance overlooks the waterfront, the side gate is constructed in arch form, thick walls.
Stork temple in Giong Lon hamlet, Dai An commune, Tra Cu district, Tra Vinh, 40km from Tra Vinh town to the south shall be just good call for those fancying a crowed flock perching everywhere. It was built in 1677. The great pagoda features Khmer architectural traits. The main hall, stupa, monk chamber and the synagogue mount on peaks and pinnacles. Temple is surrounded by bamboo trees, Hopea odorata green all year round.
Cau Ke ancient house or Huynh Ky locates in Cau Ke town center, Cau Ke district. The house was built in 1924 based on design drawings by French architects. Like many other civil houses, such old houses include the main compartment and a number of adjacent items such as gate fencing, rear house, barn. The main rectangular sectionlies toward north-south direction, 20m long, 18m wide, blue stone-curbed ground, floor tile in varied patternsand slate tile roof.
Countless exclusive delicacies have become the local specialties such as coconut crumb mix up green rice, rhynchophorus ferrugineus, Xuan Thanh wine, cylindric glutinous rice cake, macerated fish stew, noodle soup bouillon broth, eel stewed creek premna, Cau Quan grilled fish, stuffed pancake, tube cake (banhong), noodle soup. Add in your favorite list.
During your trip around Mekong delta, catch a glimpse at Tra Vinh and partake the cultural activities, festivals while kicking palate by savory daintiness. Sure you gonna love it at first sight.