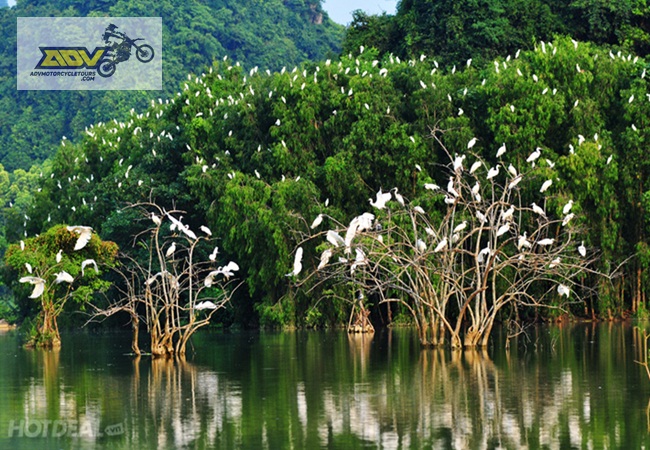 Visit the dandy land of Bac Lieu province
Bac Lieu is not only blessed with the vast sandy beaches, rolling mountains, vast mangrove forests. Stories rumor of a rich land whose notorious dudes even burnt money to cook eggs. Though such odd extravagant scene no longer exists, stop your feet to feast the eyes, the ears of Night Song of the Missing Husband known far and near (Da co hoai lang), Bac Lieu appeals tourists both from the historical, ecological attractions, spiritual tourism associated with the landscape and the ancient story.
Guests can visit any season of the year, but to learn to the fullest on the customs and beliefs of the locals Vietnam Motorbike Tours recommend lunar February and March.
If you want to know Khmer architecture and style of a pagoda in Bac Lieu, visit Xiem Can pagoda. This temple distances Bac Lieu town about 7 kilometers (the same route to Bac Lieu bird sanctuary). This temple has a very large campus, airy views sparkling 2 main colors of yellow and red. Xiem Cam pagoda and architectural structures simulate Khmer pagodas in TraVinh, SocTrang.
This temple has existed for more than one century. Tourists coming here will be surprised by the intricately carved architecture. Observe from afar the yellow, high entrance, whose meticulous and distinctive design definitely catches your eyes. Above the gate, 3 towers in Angkor style are decorated with snake-heads figure. From the gate to the precinct of 100m along spacious sidewalk, shadowed under rows of trees, temple is the main complex including main hall, sala (synagogues of monks and worshipers before praying ceremony), residences of monks and stupa.
The tourist area in Nha Mat Ward, Bac Lieu City is a man-made resort combining eco-tourism, resort and entertainment. The entire resort includes artificial beach along the coast, caves. This massive aqua area cools the scorching days during summer. You can visit Nha Mat resort for rest, entertainment.
Dude's house locates at number 3, Dien Bien Phu Street, Ward 3, Bac Lieu City. It links to the flashy anecdote. Such house was built in 1919 by French engineer and in Western architectural designcorrelated with Asian geomancy.
The house consists of a ground floor which is decorated with cornice, prominent patterns, including 4 rooms and 4 halls enclosed by wide corridors so the house is always cool and ventilated. Nearly one century has passed, but its interior still remains intact.
Western architectural ensemble in Bac Lieu old house includes 30 mansions, large and small villas such as administrative buildings, courts, the palace (the provincial chateau), Bac Lieu Dasher home. All are built in the Western style, materials such as doors, marble flooring, tiles, doors were transported from France. Regarding this architectural complex, locals viewit as a valuable spiritual heritage, the pride of the people here.
Bac Lieu bird sanctuary locates in Hiep Thanh, Bac Lieu City, an area of about 160 hectares of mangroves, is home to more than 40 species of birds with more than 60,000 individuals, including many rare species such as white ibis, glossy ibis, cormorant, cauldron, egret, heron.The wild bird sanctuary is scattered in the districts of Dong Hai, Phuoc Long and Gia Rai of Bac Lieu province. This should bea niceeco-tourism attractionfor nature lovers.
Some mouthwatering culinary here
Cattail pickle is a popular daily dish in Bac Lieu. For delicious fermented vegetable people must choose the young buds then poach through boiling water, soak in a jar filled of rice water mixture and salt for 3-5 days.It tastes sour, crunchy and is served with soy sauce, fish sauce, dried, pickled shrimp, shrimp meat salad. Or eat in many other dishes such as fried tiny shrimp, fried meat, sour gray eel-catfish soup, anabas.
Also relish Tanjin preserved vegetable or pickled radish of Chinese in Bac Lieu. To get the fresh delicious Tanjin preserved vegetable, pick big turnip, wash then slice into yarn and after that dry, mix with sugar, five-spice powder, salt and a little wine. This dish combines best with plain porridge.
White radish cake is made from white radish flour, rolled into small pieces. Fillings are made from prawns, pounded shrimps, lean meat mixed with green bean, marinate and fry. This dish will be served with assorted vegetables and herbs, lemon, garlic, chili fish sauce.
To have a delicious, sweet and sour three-striped crab dish, choose medium little crabs, then wash, cut outer shell, cut sharp claw. Then put into boiling water, soak for 15 minutes, take out and chopinto pieces for good marinating.
Bac Lieu is about 290km from Ho Chi Minh city and only 5 hours away by car. You can choose the familiar car such as Mai Linh, Phuong Trang, Hoang Yen, Kim Yen, etc. Ticket prices range from 190,000 – 210,000 VND. Unless you want the convenience and chance to encounter other sights, an enduro tour by motorcycle simply fits your yearn.
Engaging fete, exotic temples, house and good food beside the enthralling stories, especially hospitality of local folks sound marvelous. What are you waiting for? Sure the notorious "prodigal" land won't fail your taste.