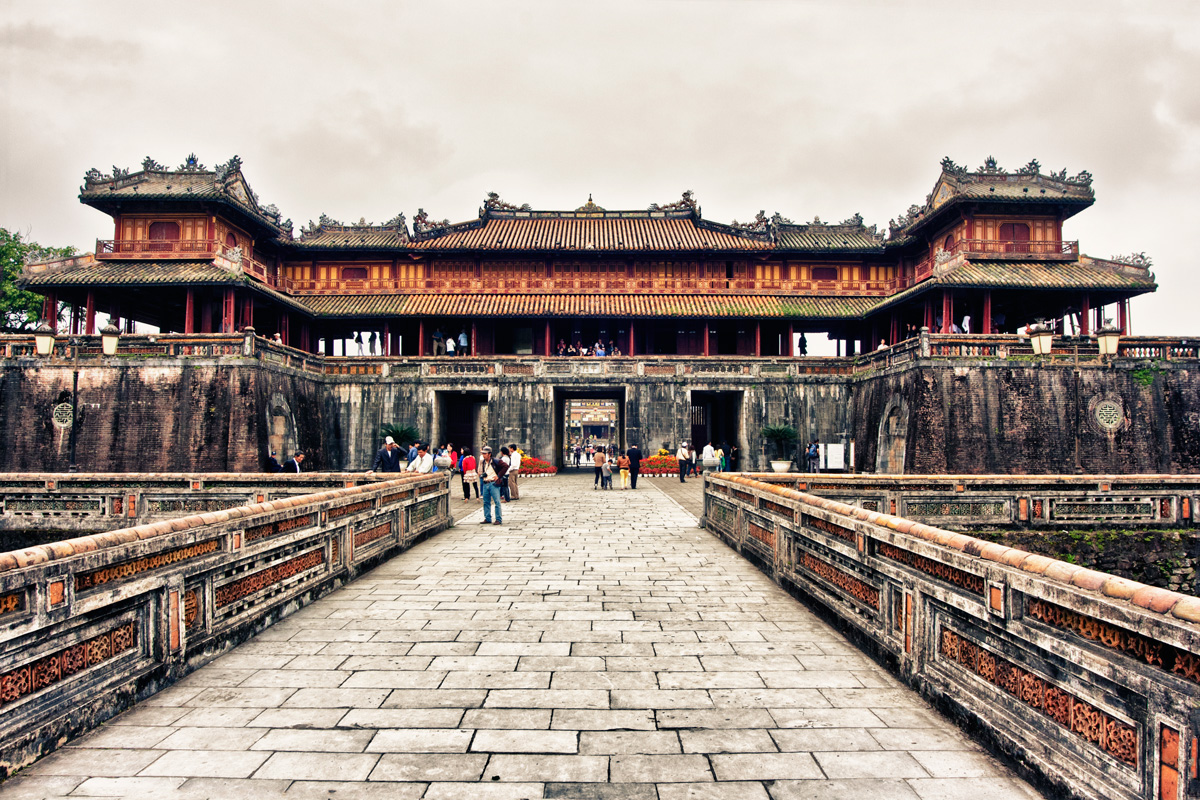 GENTLE CHARMING HUE CITADEL CAPITAL – AN IDEAL DESTINATION
Located on both sides of Huong River, Hue City is one of the world's cultural heritages. Hue owns a gentle rustic beauty that ancient that linger in tourists who have chance to visit here. Hue compels us by the palace, temples covered with green moss, historical stories reminding us of the origin, of the struggle of the whole nation.
Tourists might travel to Hue by plane due Phu Bai airport, or Thong Nhat train for a leisurely move, and passenger car at stations. Especially, To feel its most natural features, you should travel Vietnam Motorbike Tours onward a stretching road with mountain forest by one side and the ocean by the other side. For a convenient movinginside Hue city, you can rent a motorbike in a range 100,000-200,000 VND/day, also when visiting the Citadel you should hire cyclo to feel the idyllic and rustic scene here.
Hue imageembeds to the beauty of Vietnamese girls in the purple Ao Dai. Tourists will admire the ancient beauty of those historic relics like the Citadel of Hue Imperial City, Gia Long's, Minh Mang's Tombs, Thien Mu Pagoda, Temple of Literature and Hue National School. Also behold the sceneries like Ngu Binh Mountain, Thuan An beach, Lang Co Beach and Tam Giang lagoon. Ritual Music is one of Hue's unique culture. The festivals held 2 times every year attract many visitors. In particular, the lantern festival, spring flower festival of hundred colorful flowers like Nguyet Bieu tuberose, Bai Dau chrysanthemums, Phu Thuong dahlia, Duong Xuan apricot blossombloom in all corners, brightens the city vitality. Everyone wants to come Hue at least once in the lifetime to witness in their own eyes the vivid evidence of the last feudal dynasty. Not only that, gentle relaxing life pace here is also beloved.
Hue has been famous for such a large number of harmonious, gentle, dreamy sceneries. For example, Bach Ma mountain, homing many streams and spectacular waterfalls blanketed by brightly red azalea flowers and the Silver waterfall, 40m wide, 10m high. The peaceful beaches in Hue Lang Co, Thuan An, Canh Duong, always in the top of those most beautiful beaches in the central region.Or Thanh Tan hot mineral water springs, about 20km from Hue, a relaxing resort in Hue especially good for health. Exceptionally,  Huong river adorns Hue with a dreamy, lyrical beauty. Some of the most beautiful places along Huong river such as are Vong Canh hill, Truong Tien bridge, Thien Mu Pagoda, Hon Chen, Tuan bridge near Tomb of Minh Mang and Con Hen.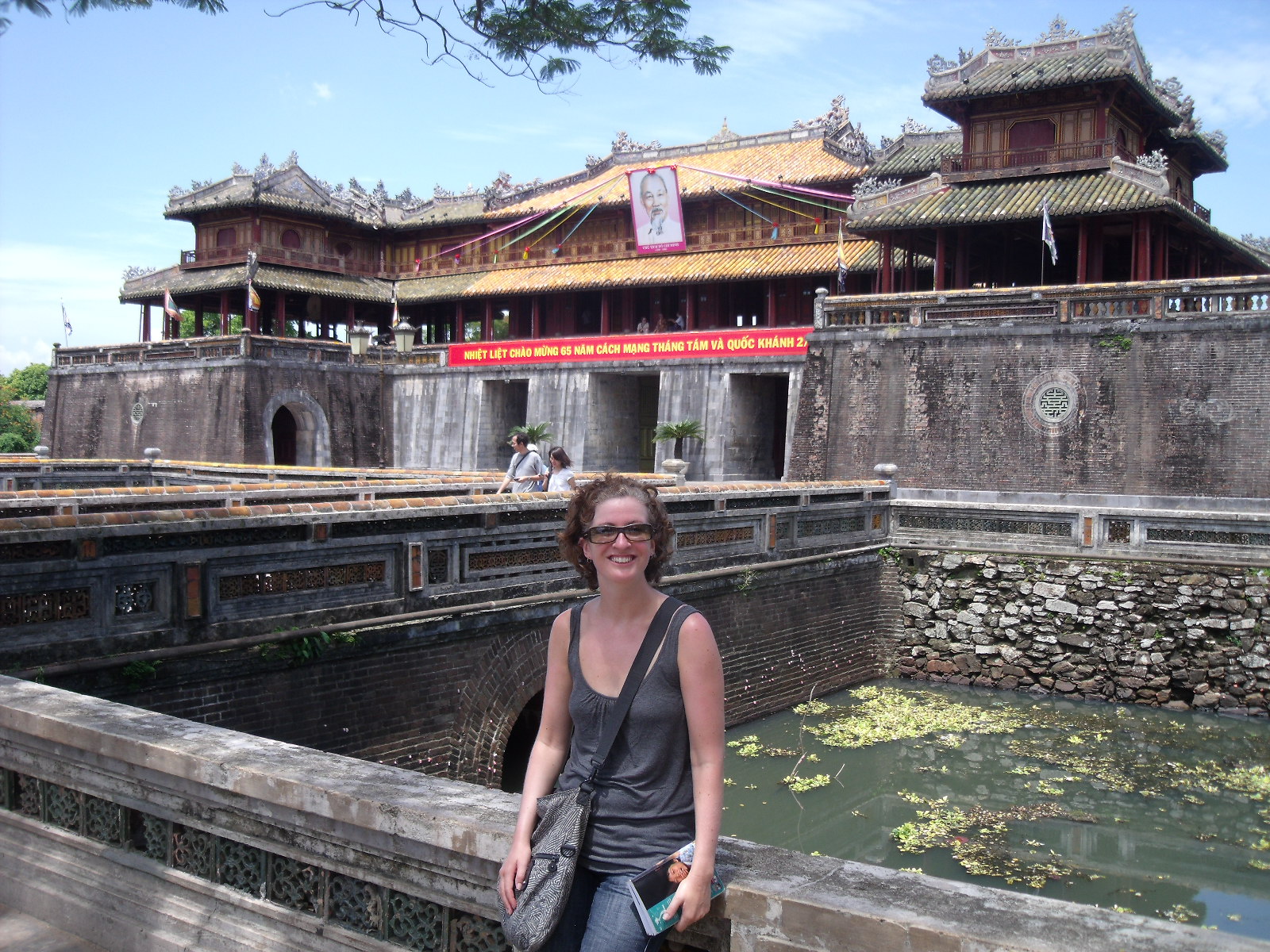 If you can wait until nightfall, take a stroll around Truong Tien Bridge, a site not to be missed when travelling to Hue. Romantic and poetic night view when the street lamps light up along its arches, shadowing into Huong river below. Chant Nam Ai Nam Binh cantillate in the mild wind. Landscape as well as the spiritual atmosphere of Thien Mu pagoda will sooth your hazy minds. Moreover when sauntering here you will also feel the serenity of this temple as the bell tolls.
Hue additionally comes with numerous specialties for example, baby basket clams rice which costs very cheap and the taste is quite exotic. Rice vermicelli and beef shops spreadalong all the streets that become very familiar but really different when eating here, atop clear broth, some crabmeat rolls, fine stewed pettioes, together with a little spicy chili sauce lemon, resulting extremely tasty, spicy.Aside, bloating fern-shaped cake with pure white rice powder topped with fried minced shrimp. And pancako with rice flour outside, inside stuffed of shrimp, thin pork bologna, bean sprouts, rice flour will be milled with water and egg yolk, then add pepper, onion, fish sauce, salt, shrimp, beef (or bird) baked sliced, tiny sliced fat, raw sprout. They all taste yummy, hence make a tour.
Hue is one of the three largest tourist regions of Vietnam. Arriving here you will be amazed at its scenic charm, the alluring of poetic Huong River, meadering harmoniously along majestic Ngu Binh hill.Nurture yourself in this serene peaceful space and savor the special dishes to enjoy the most wonderful time in romantic gently beautiful Hue. You finally can regain the sense of tranquility and peace of mind.
If you wan to visit this historical site during the Ho Chi Minh trail trip from North to South, contact us for Vietnam motorbike tours prices and more information.