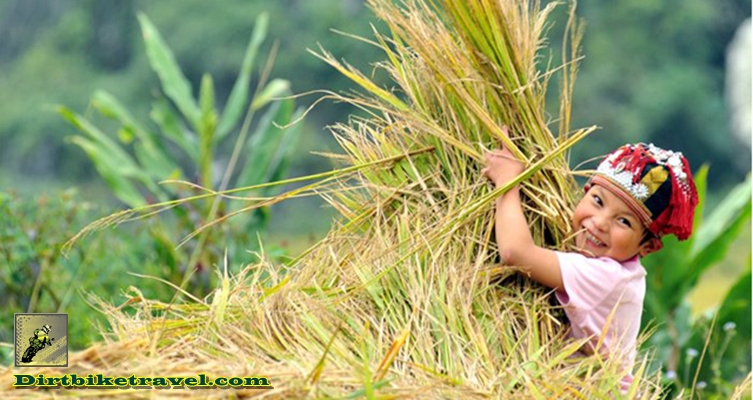 Travel to Ha Giang to visit terraced rice fields in Hoang Su Phi
Terraced rice fields in Hoang Su Phi have been recognized as National heritage since 16th of September, 2012. Coming to Hoang Su Phi in September, you will see the rice on the fields start changing their color from green to yellow in preparation for the new harvest.
Creating terraces on the slopes is one of the most popular forms of cultivation in many countries in Southeast Asia such as Vietnam, Laos, Thailand, Indonesia, and in some provinces in the South of China.
In Vietnam, many ethnic groups living in Northern mountainous region also cultivate on terraced rice fields like La Chi, Ha Nhi, Mong, Dao, Nung…Each minority has its own formation and development process of producing on various terraces, habits, ways of farming as well as the rituals and beliefs of agriculture.
Lying at the foot of Tay Co Linh mountain range, in recent years, Quang Vinh town has been very bustling with many tourists who love adventure and come here to seek the unique and amazing terraced rice fields. If the far North of Vietnam is famous for Lung Cu flagpole among the background of third-fours stone endowed by nature in Dong Van, Ha Giang province, Hoang Su Phi is compared as an admirable picture drawn by the skillful hands of the famers. Ravishing moment, when the rice fields start being ripe, will enchant whoever comes here.
Located in National road No.2, from Tan Quang Town to Vinh Quang town, Hoang Su Phi is about 60km of winding road but easy to go. About half way from the National road to Hoang Su Phi, you will be lost in the labyrinth of masterpieces of fantastic terraced rice fields. It is not superlative to call Hoang Su Phi the "magnificent work" of the local people. The terraces are built near the water resource and some could run from the bottom to the top of a mountain like "stairway to Heaven" and they are the symbol of creative labor of La Chi, Dao and Nung ethnic groups.
The farmers here like excellent irrigation engineers because they can build a very intelligent system to lead water from water source to provide enough water for the terraces which run till the top of the mountain. At the water source, a bank of the top terrace is opened so that water can run into the field. Then each succeeding terrace will have an open place for the water to run down. It is an amazing scene when you see the silver water running down to all of the terraces. When there is enough water, they can harrow and then replant the rice in each field. This is a very busy and interesting time with all of the different kinds of activities of the hill tribe people. And tourists can not stop their admiration when witness the scene.
The most well-know village in Hoang Su Phi is Luoc village with many "stairway to Heaven" which are deep in cloud. If you stand at the food of the terraced rice fields and look to the highest terraced, it seems to be that you are standing in front of a big mirror.
If you walk up to the temple where you can see 13 clay statues, you can take many beautiful photos of gamut of natural wonder. Hoang Su Phi is not only famous for terraced rice field masterpiece, it is also famous for village fair opened on every Saturday. It is not add more color for the highland but also the great place to introduce all of the specialities of the region which are corn wine, meat hanging upstairs kitchen, pig…and you will have a question that why only women sell wine, not men. For it is the special custom here: people who drink wine will never sell wine.