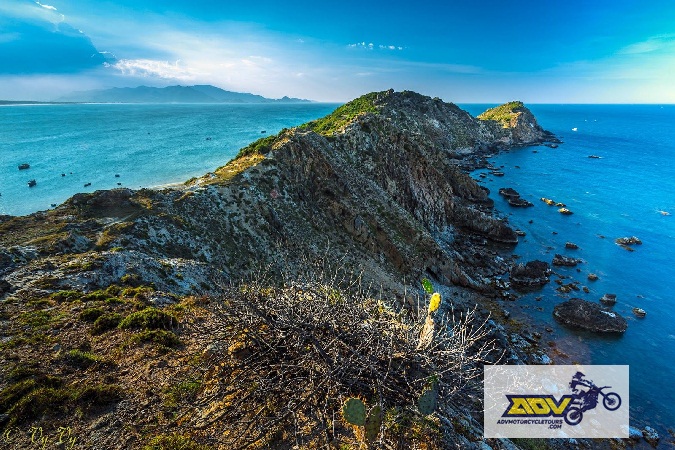 Unwind in beautiful beaches and islands of the martial-art land, Binh Dinh province
Binh Dinh province located in South Central Coast region, famous for stunning natural landscapes, many attractive specialties will be interesting destination for visitors who want to stay away from noisy, crowded places.
Ideal time to travel to Binh Dinh
From February to August is an ideal time to travel Binh Dinh, because there are often storms in the remaining period. You should plan a schedule in advance for the sights to visit.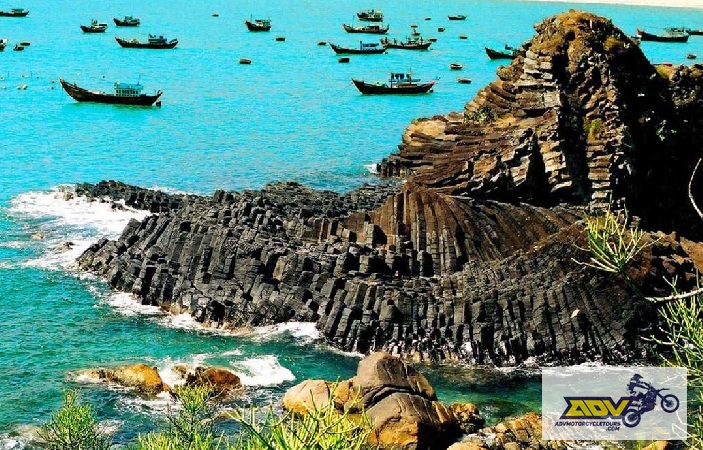 Transport
Quy Nhon – Binh Dinh is in the area of the South Central Coast of Vietnam, approximately 1.065km from Hanoi capital in the north and 649km from Ho Chi Minh City in the south. If you're in 2 big cities, you can move here by means as following:
Planes
There are flights of Vietnam Airlines, Vietjet Air to Phu Cat airport which is about 30km from Quy Nhon, with 2 flights from Ho Chi Minh City and one flight departing from Hanoi. Ticket prices fluctuate between 470,000-2,000,000 VND. Travel time lasts in 60 minutes.
From Phu Cat Airport to Quy Nhon, you might take transit vehicle of Phu Cat airport (it reaches No. 1 Nguyen Tat Thanh), travel time prolongs about 50 minutes, costs 50 thousand VND or you take a taxi of about 400,000 VND. To save money you can share with multiple passengers and divide the money.
Train
From Hanoi and Ho Chi Minh City to Quy Nhon – Binh Dinh, there are many trains north – south running through the province of Binh Dinh and stopping at Dieu Tri Station. So you can choose train for the journey to Binh Dinh. To know the schedule, you can contact the ticket office to know the exact time of train arrival.
From HCM City, it takes about 10 hours to you approach Dieu Tri, from Dieu Tri if you take taxi to Quy Nhon, it only lasts about 30 minutes, costs of 200,000 VND. You might also share fees with other passengers.
Coach
A number of high-quality coaches route Hanoi – Quy Nhon, Binh Dinh and Ho Chi Minh City – Quy Nhon, Binh Dinh, such as Phuong Trang, Mai Linh, Hoang Long,.
Motorbike
ADV Vietnam Motorbike Tours and Dirtbike Travel recommends you to ride motors here as you move whenever you wish to, not necessarily follow any itinerary. Especially, the scenery along the route of sand dunes in Ninh Thuan, Binh Thuan, blue sea, beautiful beaches in Nha Trang, scenic landscapes in Hue and Da Nang surely delight your eyes during the exciting enduro ride.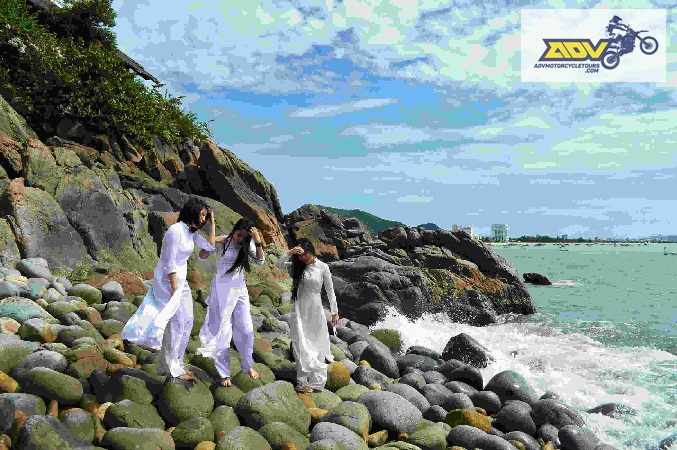 Attractive destinations you cannot ignore in Binh Dinh
Quy Nhon, the city center of Binh Dinh has always intrigued by mountain and sea blend creating majestic, romantic scenery. Guests will have an ideal vacation to the land that stretches like a bow, with one side of blue ocean waves slapping, another side of the hotel, modern resort to enjoy sea wind. Quy Nhon ocean waves has also become the source of inspiration of poetry for long.
Ghenh Rang offers healthy climate and charming scenery where King Bao Dai selected as a place for relaxation since 1927. Beneath Ghenh Rang, there is a unique beach with countless pebbles polished by waves, dedicated to Nam Phuong Queen so it is called Queen beach. From the hillside, you might view the entire paronama in the east of Quy Nhon city that resembles an ink painting.
Quy Hoa beach locates along the road Quy Nhon – Song Cau, Quy Hoa as a poetic picture that nature has endowed with clean, blue water, long-running beaches. Guests can enjoy reposeful bath or spend about 30 minutes to go on motorboat to the islands off coast to savor the tranquility and freshness.
Thi Nai Lagoon, with a length of over 10 km, width of about 4 km, this largest lagoon in Binh Dinh has lots of famous seafood. In the lagoon, there is a small mountain, a small temple founded on it by fishermen to worship sea god, for the shape like an ancient tower, thus it is known as fortune teller tower (Thap Thay Boi). Guests will be delighted as each dawn, the light spreads on the mangrove forests that dresses the romance and glamor.
Nhon Ly – Cat Tien Sea, As one of the most beautiful beaches in the South Central with ideal beaches such as Cat Tien, Nhon Hoi, Hai Giang. Visitors can soak up the spectacular natural sceneries, vast ocean with sand dunes and islands full of wind, interject into sparkling golden sand beaches.
Oats Island, tourists come here in the spring will behold flocks of nesting. The island has wonderful natural scenery, fascinating natural caves for thousands of years old, where the stone arch reaches hundred meters high, craggy interior, cliffs which is the right place for the birds to nest. The island owns 30 large and small caves in all: High Forest Cave (Hang Rung Cao), Bat Cave (Hang Doi), Ba Nghe cave, Shallow Cave (Hang Can)…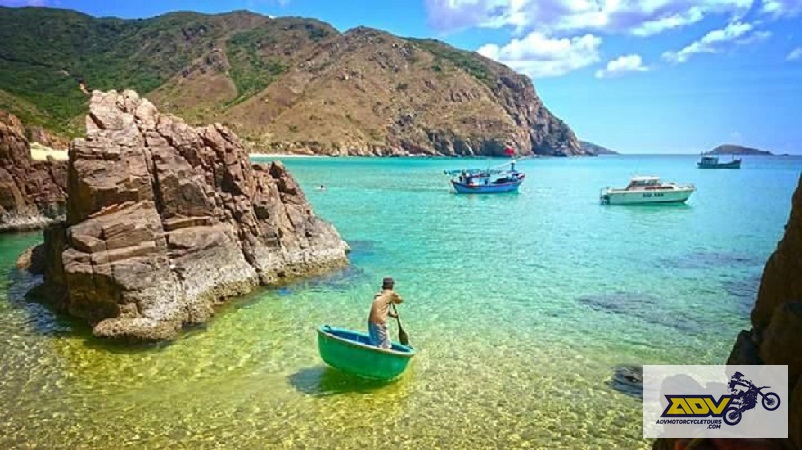 Dry islet (Hon Kho), about 6 km from Quy Nhon plays as a giant shield for Nhon Hai fishing village. During rough-wave season, Hon Kho welcomes big waves splashing white foam look afar as the incredible flowers of ocean. Back to the calm season, Hon Kho brings tourists the velvety green grass and fresh water creek from the cliff. The most interest is to visit Nhon Hai fishing village, snorkel and enjoy the fresh seafood dishes.
Cu Lao Xanh, in Nhon Chau Island commune is a priceless gift that nature bestowed to Binh Dinh, from Quy Nhon just over 20 km. Guests will be immersed in a space of endless blue sky and sea and islands. At dusk, visitors will admire the picturesque scene with boats dotted on the sea shimmering wave, explore the humble lives of fishing village in a peaceful setting.
Which delicacies in Binh Dinh?
Visitors may enjoy the rustic specialties but full of grace. Nem in district market with pepper meat wrapped in guava leaves, served with herbs, you can roll with wrapper, dip in soy sauce or fish sauce. Sweet taste of the meat and spicy taste the pepper at the tip of the tongue, nothing could be more delicious.
Quy Nhon fish noodle seems really special. It is cooked purely from fish without seasoning. Also churning soft thin vermicelli with marinated char-grilled pork is also a pleasant experience here. Besides, tourists can enjoy pancakes, salad eel, shrimp rolls, grilled chicken wrapped in sticky rice, jellyfish noodle soup, cheap seafood such as oysters, ranina, echinoidea, …
Come Binh Dinh – the cradle of traditional martial arts of Vietnamese people, the birthplace of Nguyen Hue to enjoy the beautiful sea, the fresh breeze and the delicious seafood dishes. Surely you will never forget such wonderful trip.